Daily stats Sluderno to Egna
65 miles - are we bonkers after yesterday? Yes but today has been the only day that has been all down hill!
5 hours 42 minutes in the saddle
29 mph fastest - it was HOO!
1 barking dog
Millions of apples!
An incredible cycle path
100s of cyclists - in the whole trip so far we saw more cyclists today than for the rest of the days added together and all on the same path - HOO thinks we had more chance of an accident with the Lycra clad, manic pedalers than if we had been on the Italian main roads!
We have done over 700 miles!
Now this is the thing about touring on a bicycle, you discover things you never expect …. today we cycled along a valley through the Dolomites. For our whole 65 mile journey, we we're surrounded by apple orchards. Beautifully planted in manicured rows and laden down with apples. The harvest season has just begun, and they are all picked by hand and loaded into crates, taken off by little tractors to then go to the factory line for juicing or to be sold for eating or cooking. Such a range of colours and varieties and the smell of apple in the air. At our last pit stop we had an apple juice with dash of sparkling water, whilst at a little cafe in the middle of an orchard - it was delicious. Now I know I am ignorant about many things but I had no idea this region was such a huge apple producer. Can you imagine how it looks in the spring as the blossom comes out, surrounded by the mountains?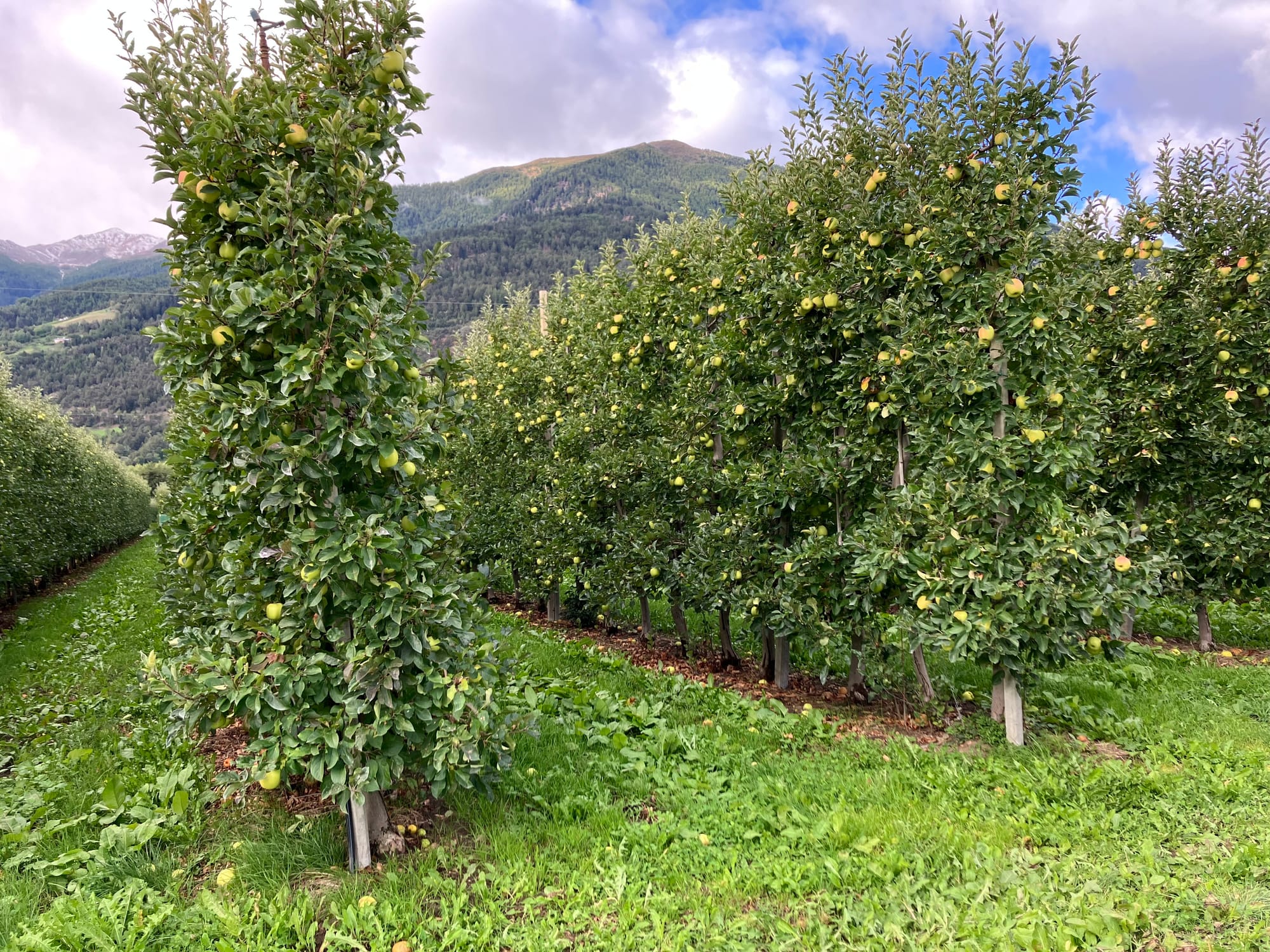 Not only were our surroundings a complete surprise to us but so was today's route. We were recommended a cycle path that has taken us nearly all of the 65 miles we have travelled today. Mostly tarmac and downhill, we felt we have had our reward for yesterday's endeavours. It really has been easy cycling today- following the river downstream, surrounded by mountains and apples - bliss. As HOO said, the only issue with a cycle path on a gradual decline is that you do have to pedal all the time - at least with hills you have to pedal up but can free wheel down! Well for me, today, I was very happy to pedal easily away and not see one hill, in fact I might never need to see one again!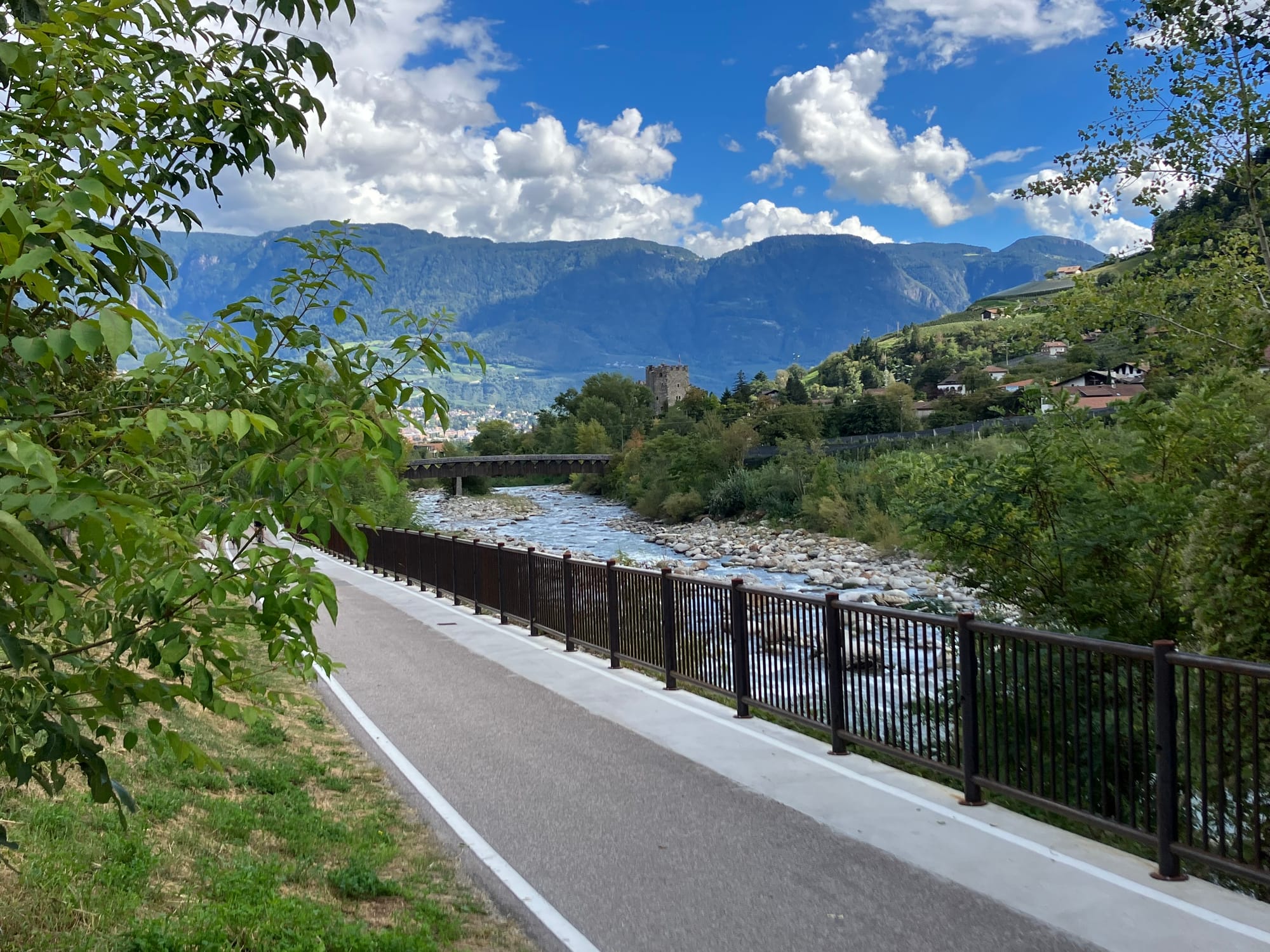 We had a delightful coffee by a lake that just popped up, a picnic lunch in amongst the apple trees and are now in another cosy hotel, clean and full of pasta! Even this hotel is surrounded by apple trees and vines and we have just partaken of their own red wine!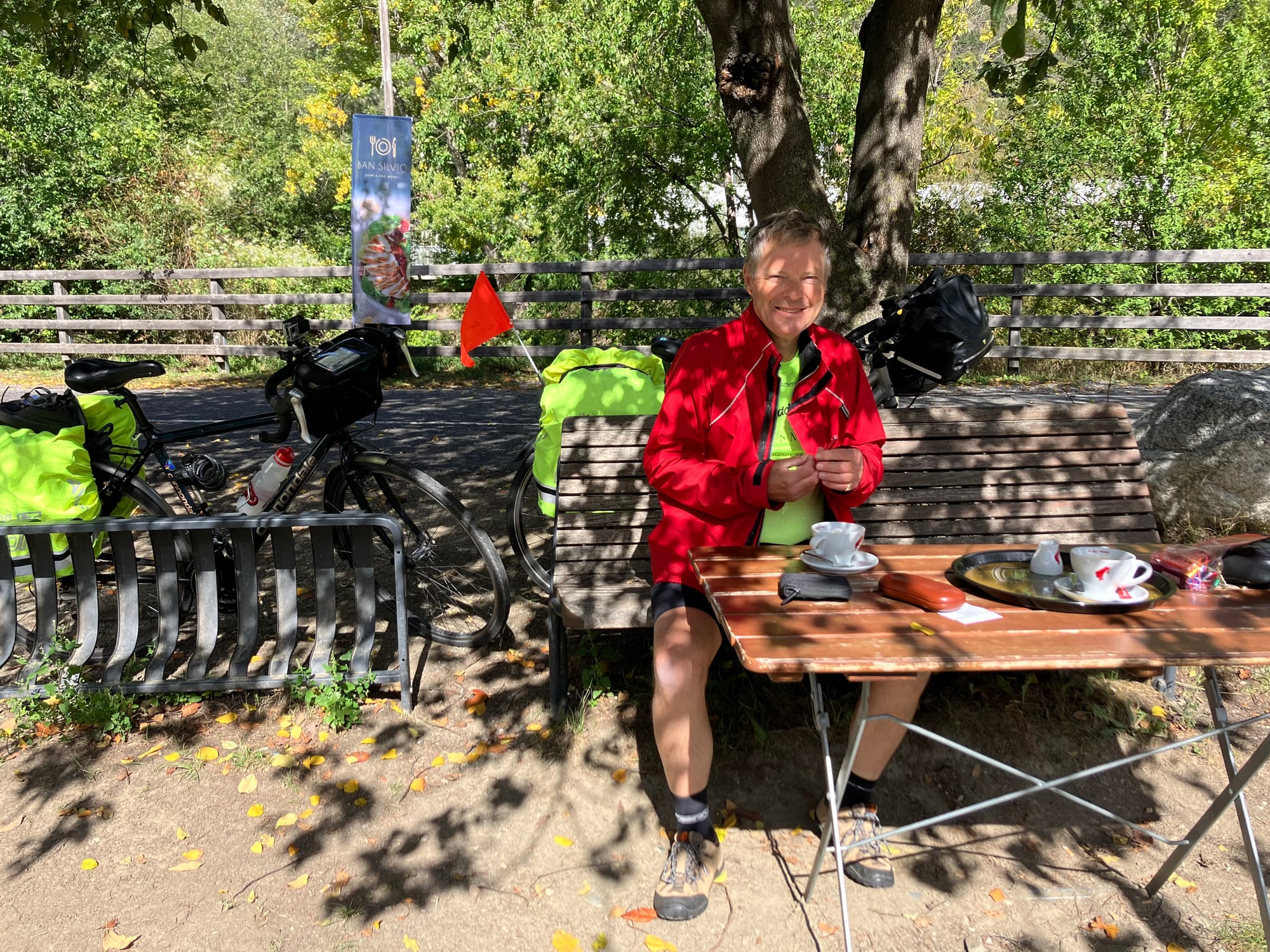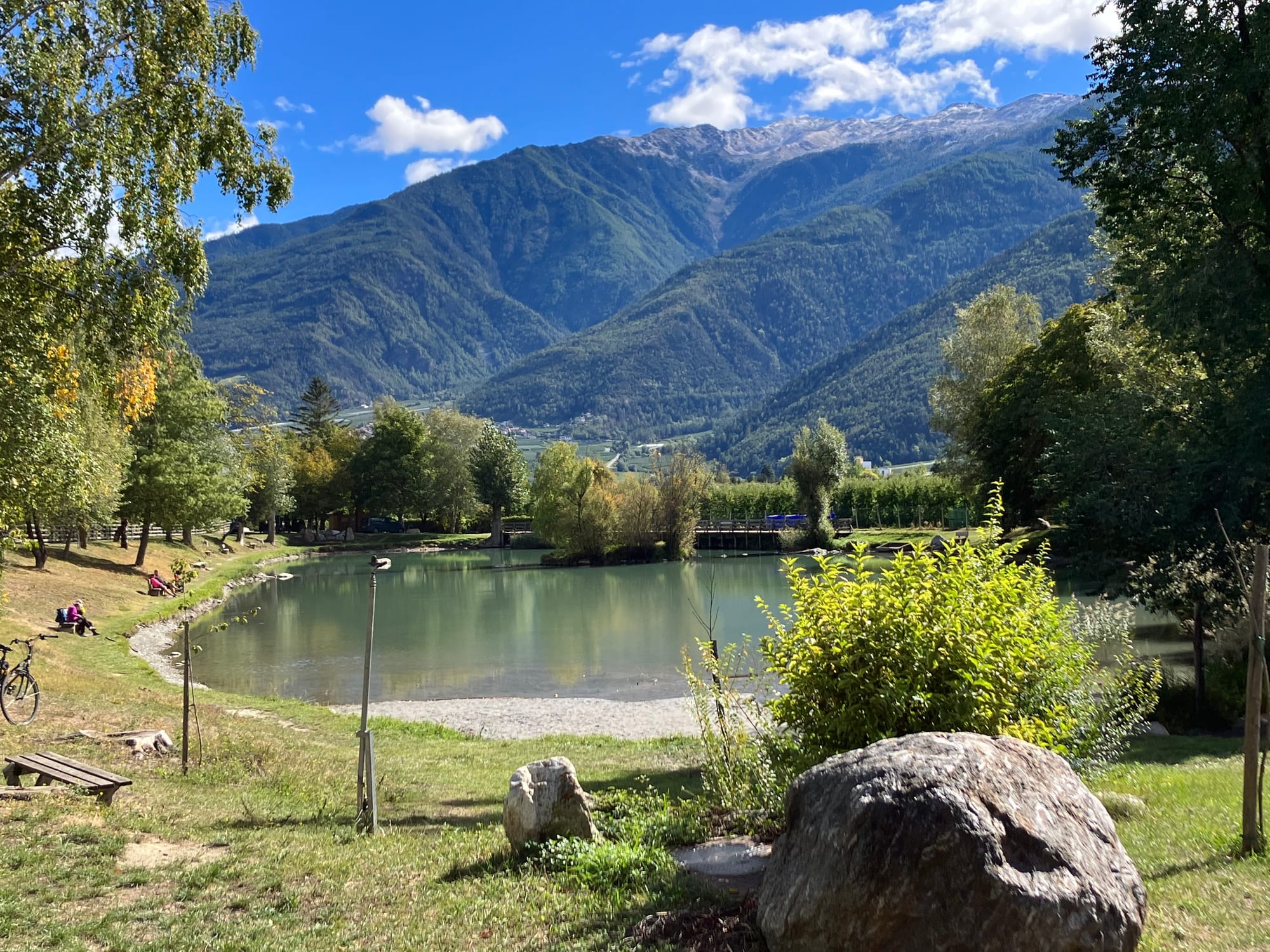 We are sad to say goodbye to the snow capped peaks but enjoying the warmer feel to the air and hope to be chasing the sun before long. Very much still Swiss German being spoken, we do not feel very Italian yet - maybe tomorrow?
How do we say hello, goodbye, please and thank you in Italian - all I know is ciao! HELP!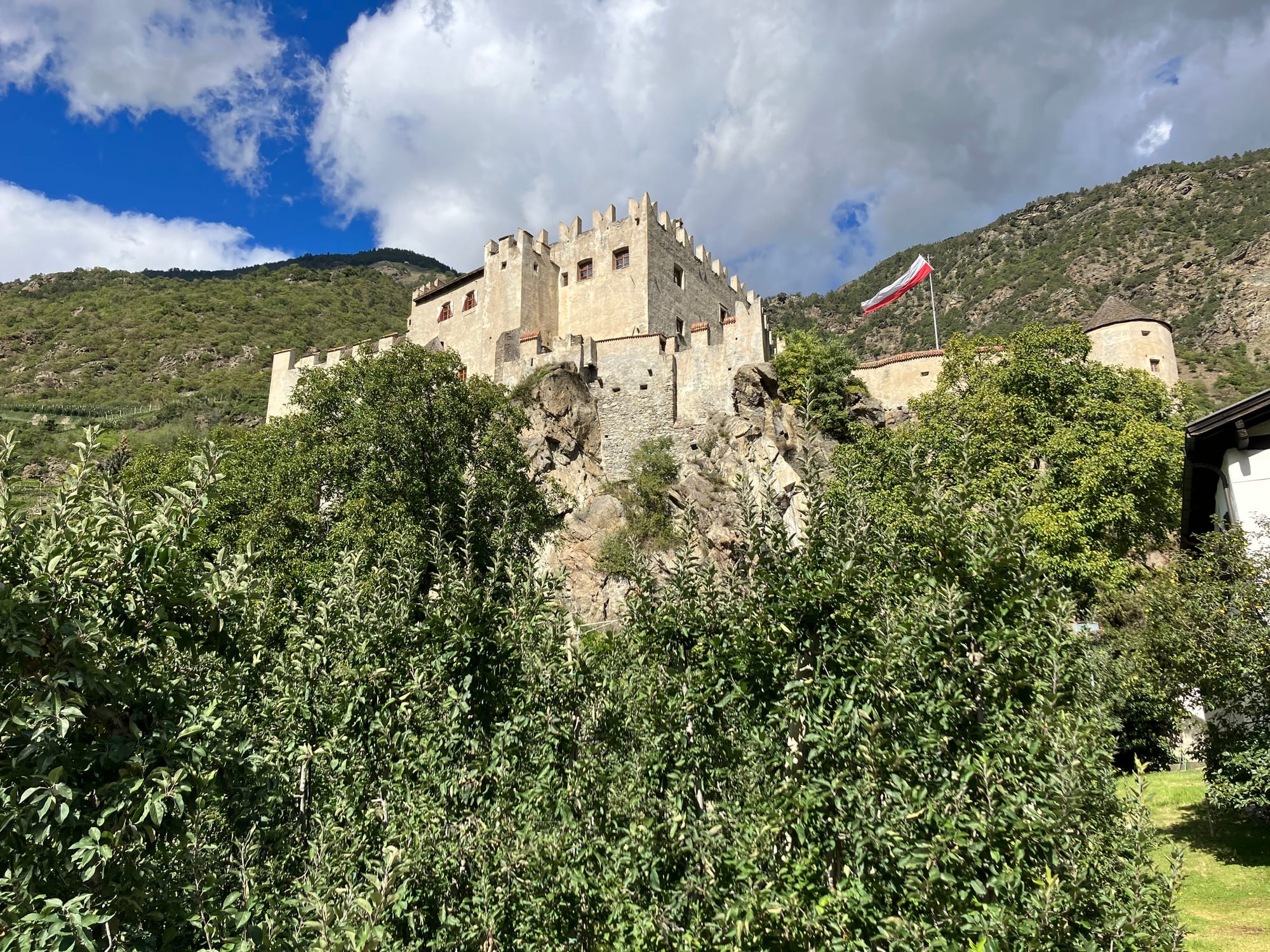 Sleep is calling. Bodies and minds are tired but content and more discoveries await tomorrow.

Much love P and J XX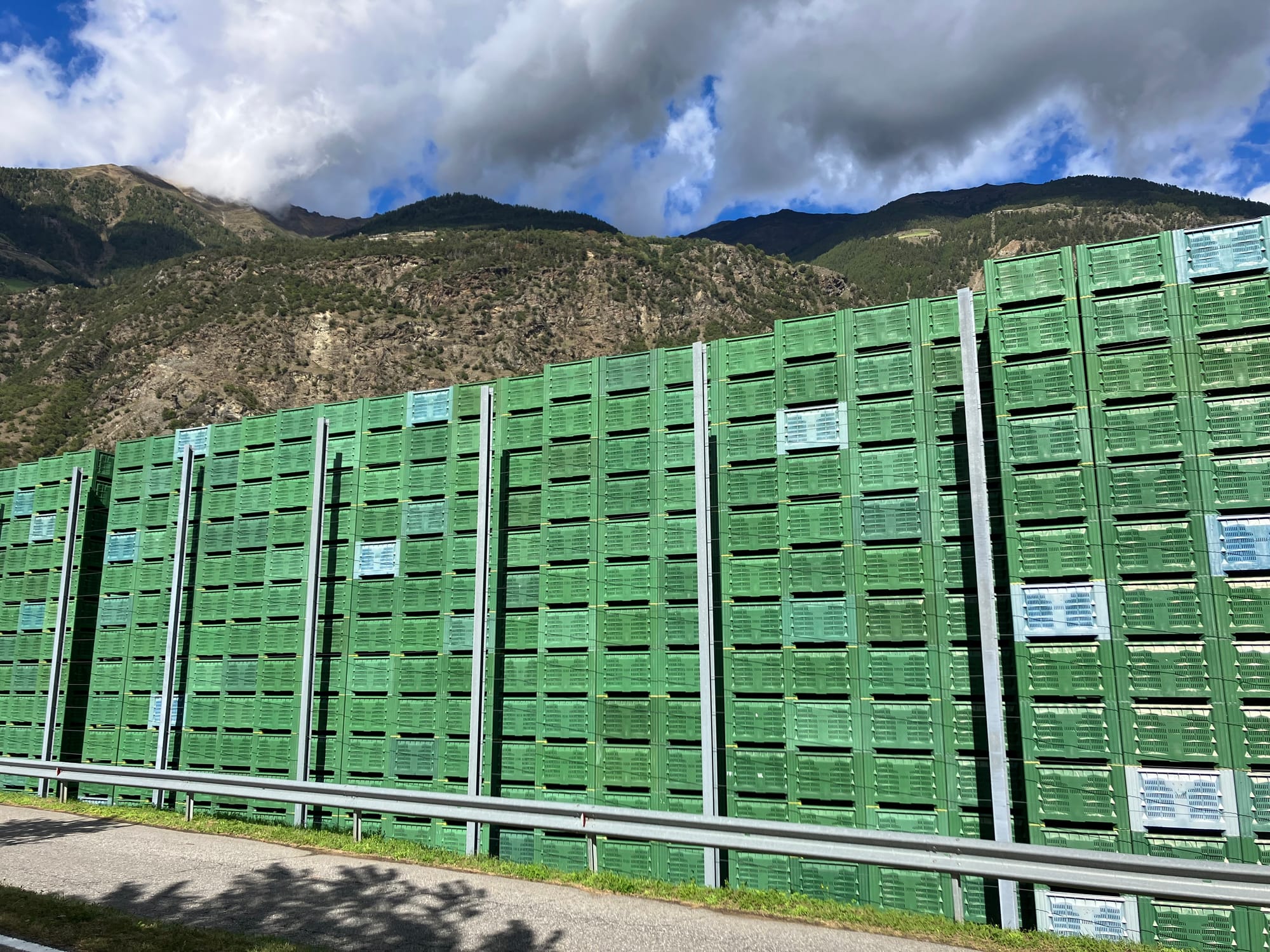 Crates of apples!