Today' stats:
31 miles - oh the bliss of a shorter day
Hours in the saddle - 3 hours and 41 minutes - 1 hour of that up a 16km hill at end of day - yuck!
A few firsts - we saw the sea! We hit the 1000 mile marker. We had our first proper gelato, we are half way there in time and distance - wow!
It didn't rain!
Total miles 1006 - really!
We had an interesting start to our day…..as HOO was connecting his go pro to his bike before we left our hotel, he dropped one of the nuts that connect it all together- there was a nasty 'ting' noise as we saw that he had propped his bike over a large metal grid and said nut must have gone down the grid into the darkness beneath. With the help of an exceptional receptionist HOO and this chap went down into the basement, found the window that led to this vacant space, HOO climbed through the window and a ladder went with him so he could get back out again once he had dropped himself down into the abyss- with me offering encouragement from above and peering helplessly through said grid, and pointing out anything shiny! Plus the chap offering help in Italian from the other side of the basement window which happened to be a massage room, all set up for a relaxing treatment but luckily no customer in sight! You couldn't write it! However, to no avail, the little nut remained well hidden. Until I saw a shiny something at the top of the grid on the ledge! 'I found it!' came irritatingly from above him and HOO was able to catch the blighter as I pushed it off the ledge! So about an hour later, 10 euros poorer (tip for the super helpful receptionist) and a little wiser about where you place your bike when putting everything in place before take off - we did finally set off!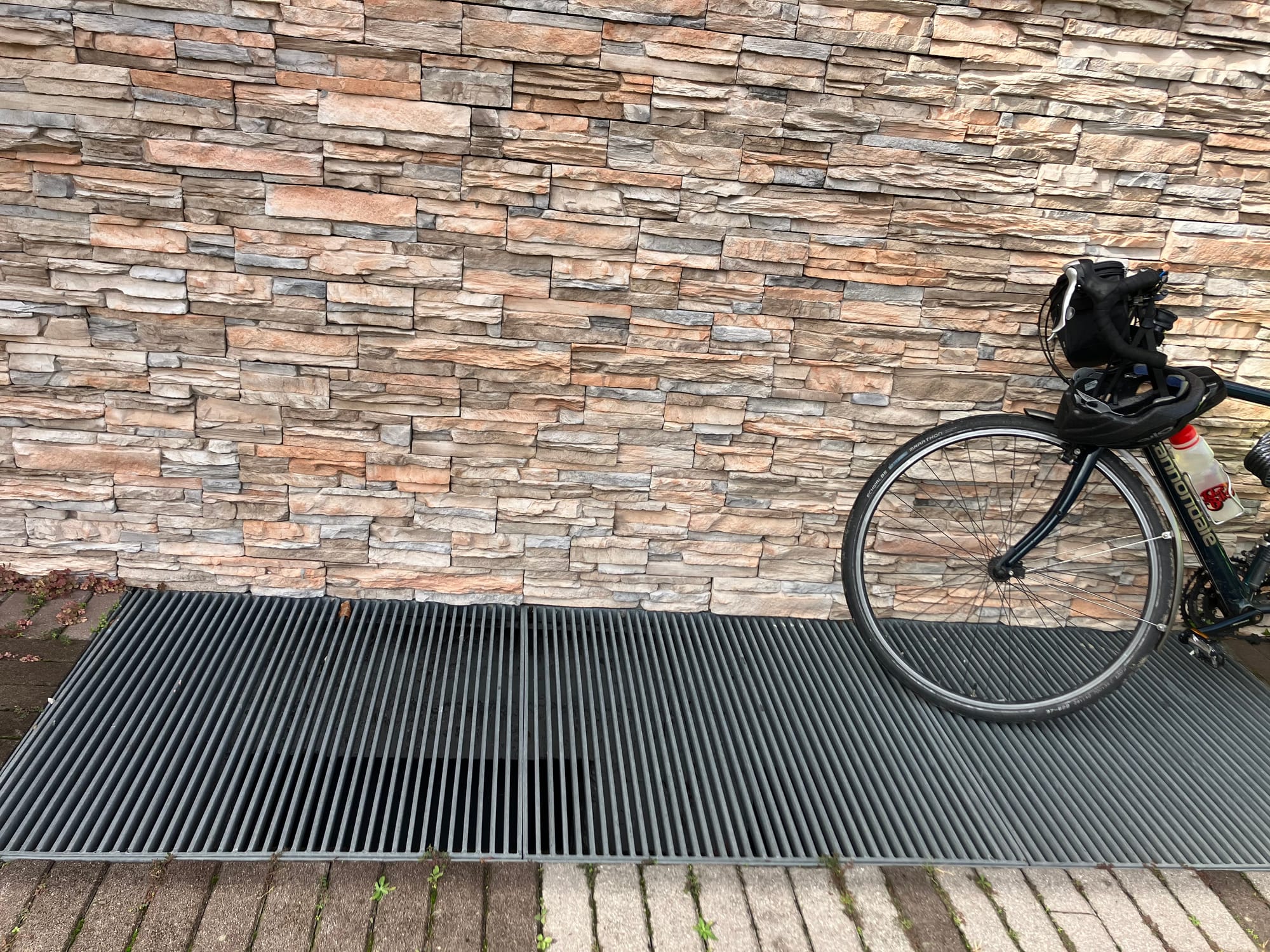 Luckily it was a shorter day today with only about 30 miles to cover and we set off in hopeful anticipation of seeing the sea and feeling warmer as the sun was out! We had an excellent 20 mile ride down to Trieste, finally seeing the Med just before entering the city. Such a sight and you sort of pinch yourself when you actually think about having cycled here!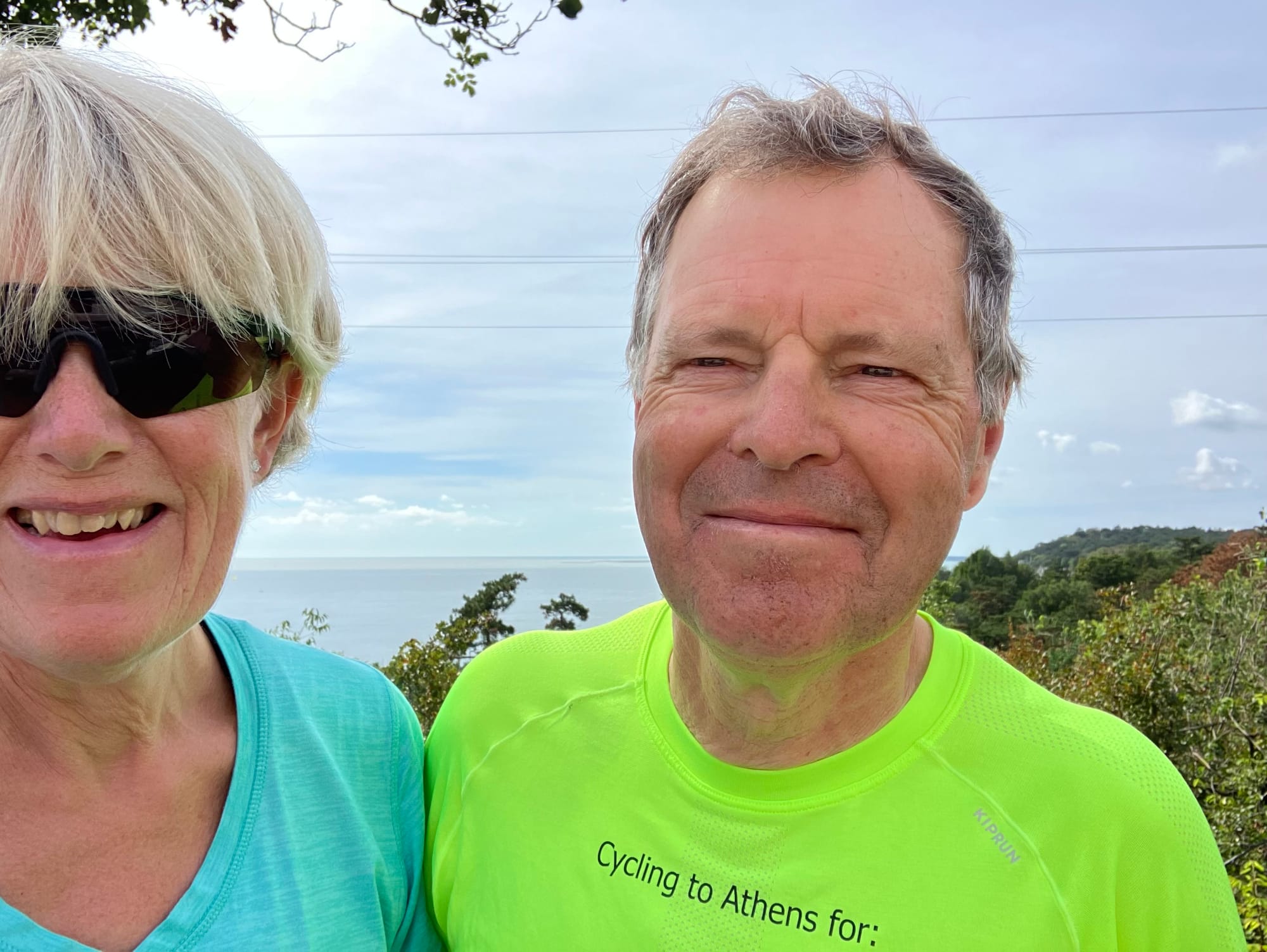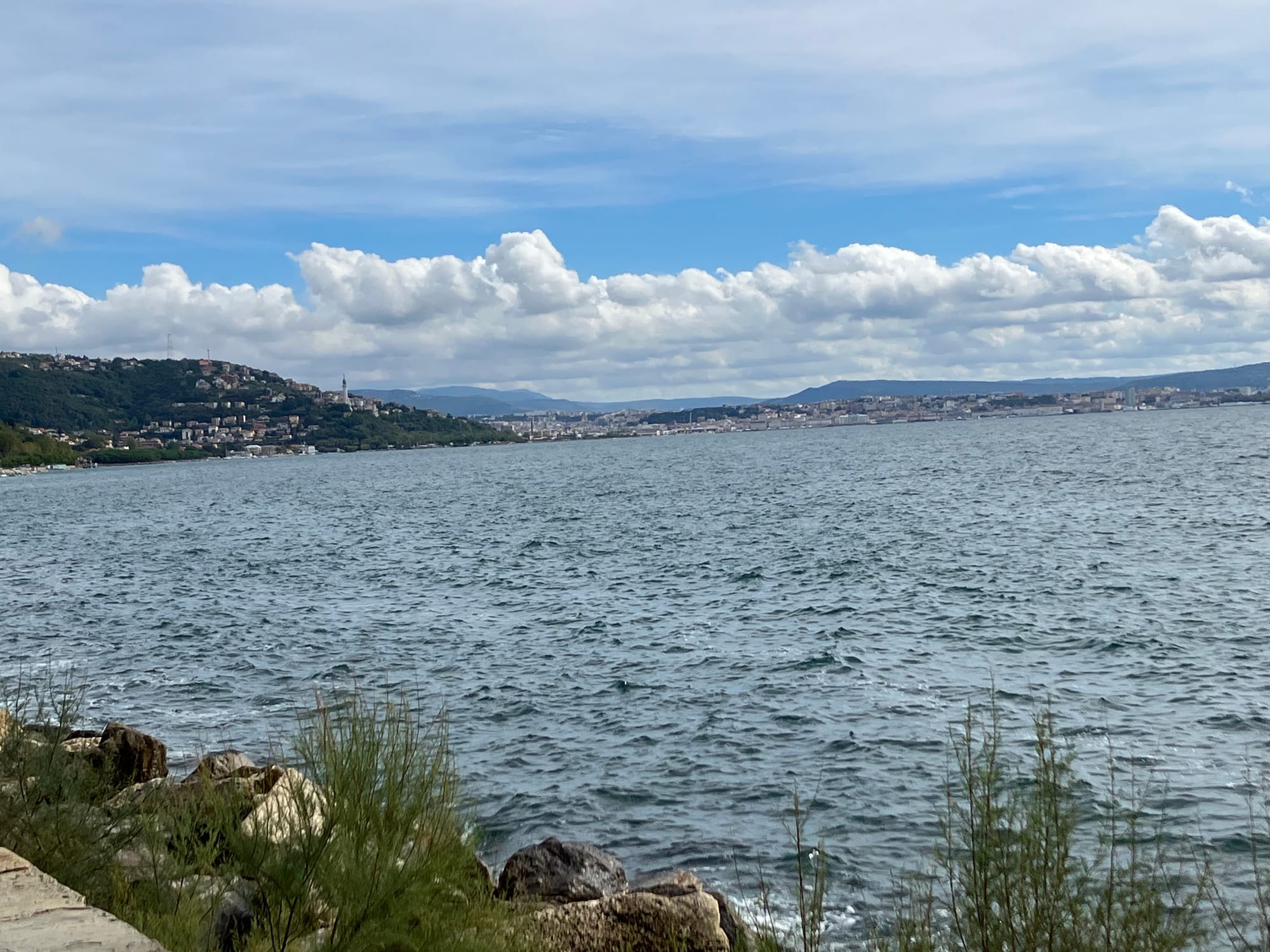 Cycling alongside the sea, we found a delightful bar which must be our favourite pit stop of the trip so far. With calamari, cokes and a cornetto for HOO, we almost felt as though we were on holiday!
Finding our way out of Trieste was slightly tricky and also involved aggressively cycling around five lanes of traffic, rather like Hyde Park Corner! There is a thrill to this though, you just have to commit and go for it and even the buses give way!
As we cycled up out of the city, looking back at the huge port with the Med twinkling, we celebrated our 1000 miles milestone! Excuse the pun! It's been quite a day for firsts.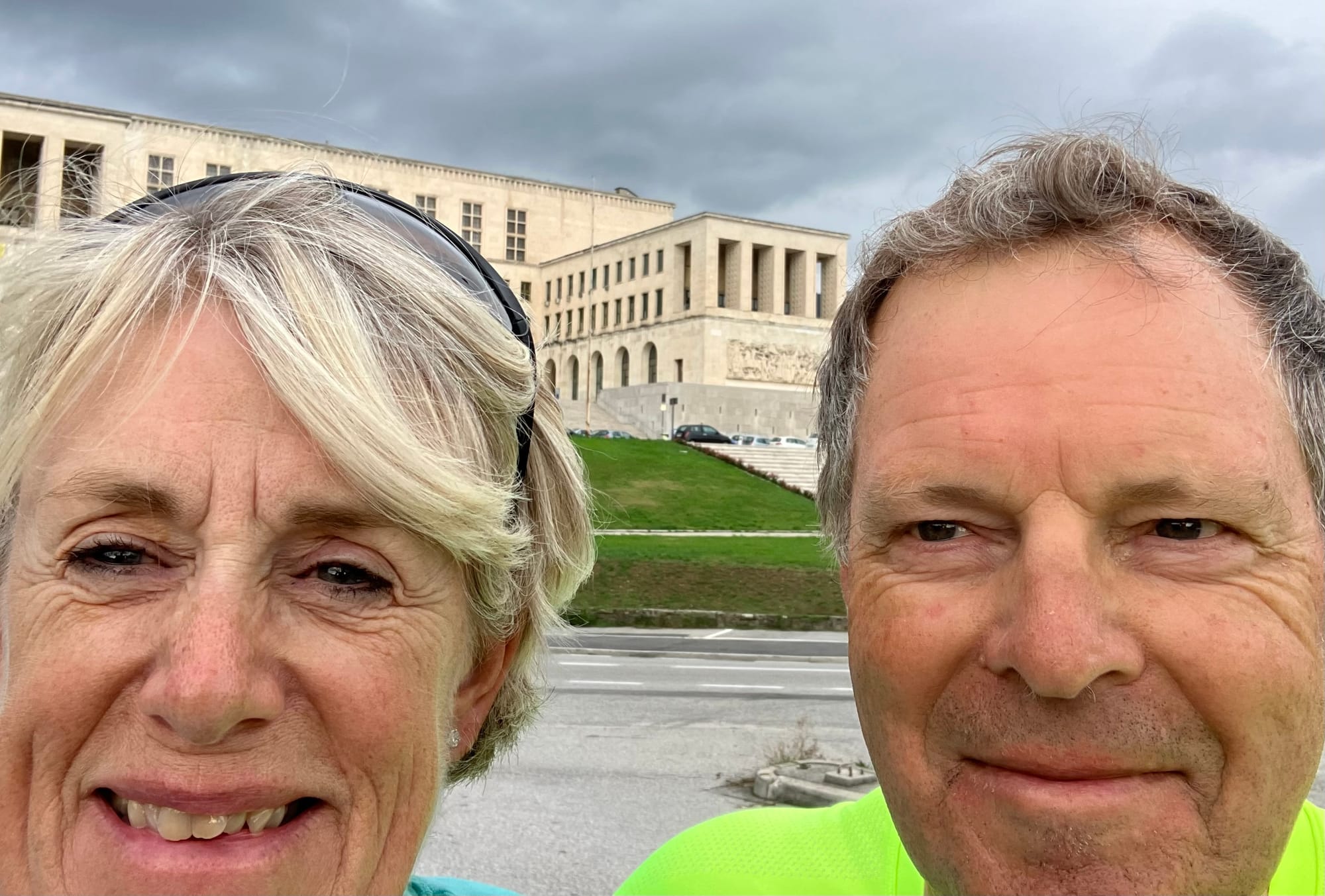 The 1000 Mile photos!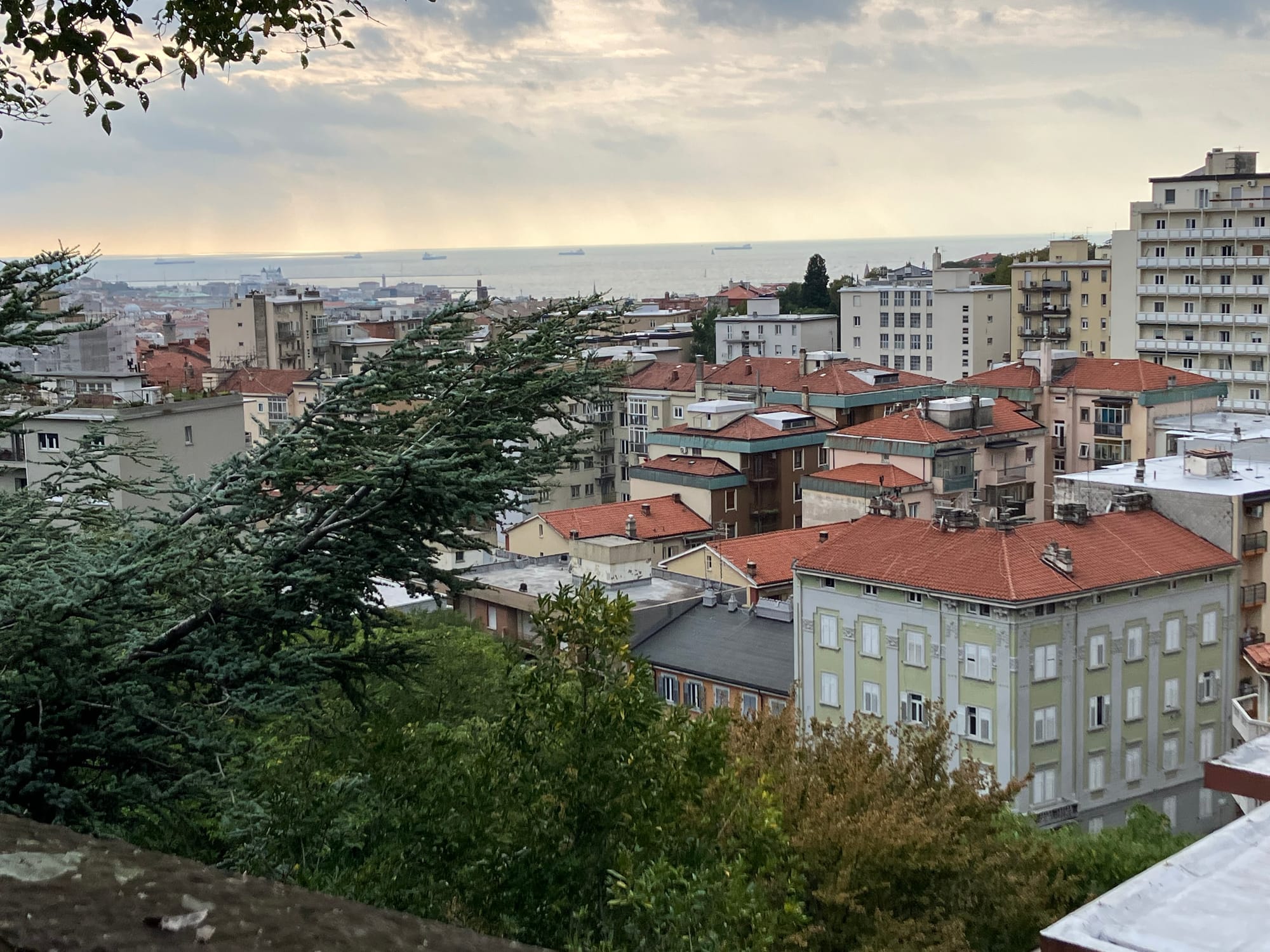 To finish, because no day on a trip like this is easy, we had a 16 km climb to get to our destination. Also after climbing very slowly, the distances went 9km - 8 km - 9km again! I love the Italian road signs! So encouraging.
So now to sleep - 3 countries tomorrow! We leave Italy, do 30 miles through Slovenia and then enter Croatia! Wow! We are both feeling buoyant - half way there in time and distance, we feel we are actually getting there.
Much love P and J XX
Forgot to mention 2 things:
On our way to Trieste we suddenly came upon this huge modern set of wide steps, with three crosses at the top. Like a modern version of the steps to Calgary. It was really quite breathtaking and the photos do not do it justice or show the impact that it had.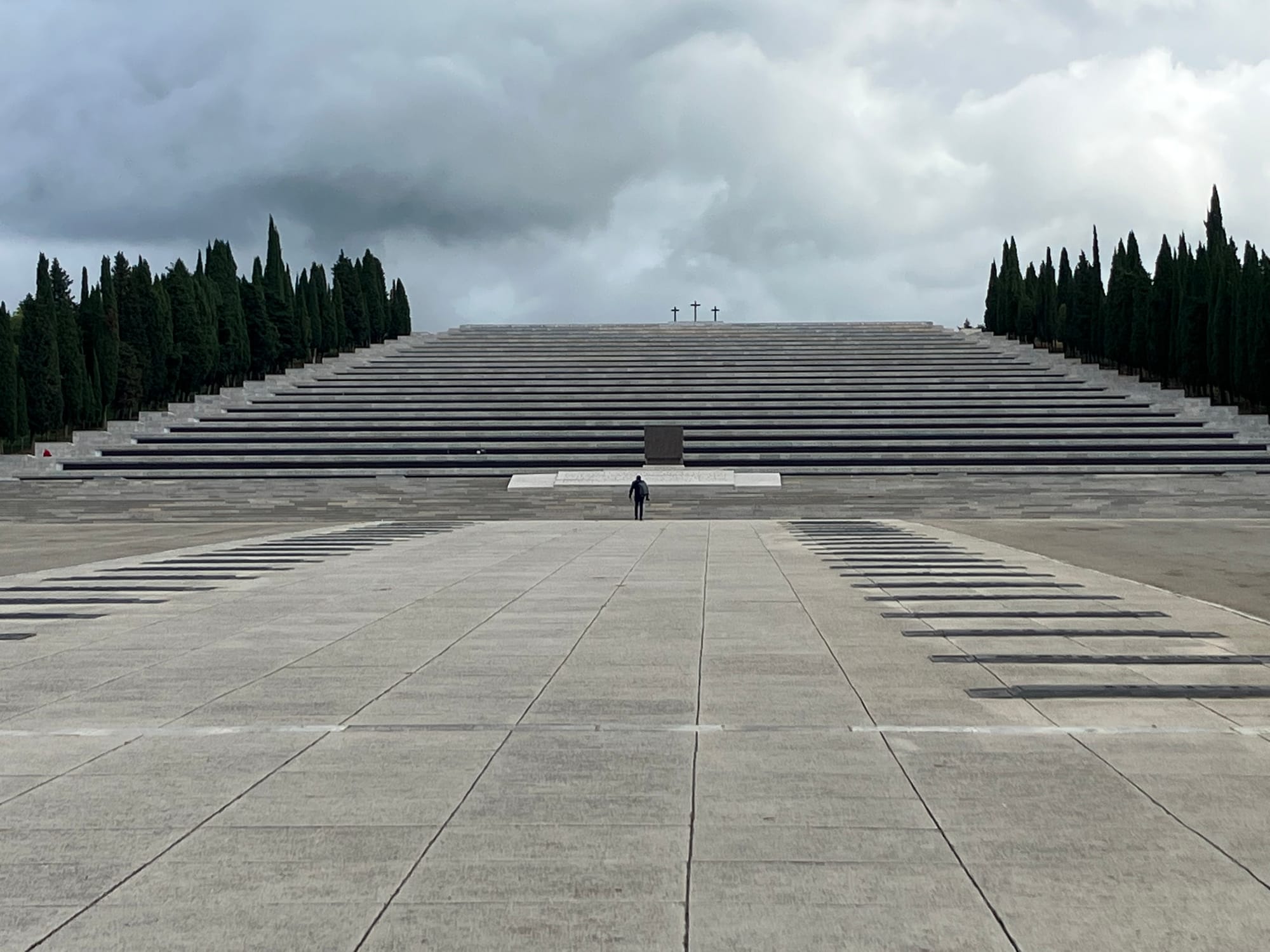 On the foodie front, I finally got a delicious gelato - coffee flavour - it was worth the wait- bye for now XX