Trogir - Makarska

Today's Stats:
52 miles and 5 hours and 7 mins in the saddle.
Total number of miles 1302!
We think we have about 700 miles to go and everything crossed Athens is 2 weeks away!
Will and his bike have landed at Dubrovnik!
We dipped our feet into the Med!
We were blessed with a glorious day again, absolutely perfect cycling temperature at 23/24 degrees with a gentle breeze behind us and honestly most of our day felt like a breeze.
We left our hotel and pedalled through the outskirts of Trogir. The place was bristling with activity, a fruit and vegetable market in full swing, young students piling off buses to walk to college, it had a happy buzz about the place. We headed south towards Split, passing the airport on the way. Which member of the party showed interest here?! And then we had to tackle Split!
Our more minor road, merged with the main road and so did we! 4 lanes all splitting (good pun!) in different directions. Bravely we pedalled on and made our way through, up and down hills, in and out of traffic jams and ending on a dual carriageway (my favourite!) before the road finally settled down and we were once more on a single carriage way coast road.
This side of the coastline is quite different from the other side. We cycled very close to the shore, with few hills to strain us and it felt like one long beach resort. Our second pit stop was at a delightful beach side bar/cafe where we suddenly felt as though we were on holiday! You do have to be careful not to get too comfortable here as it is hard to get going again and we still had 25 miles to achieve.
Those miles were rewarding ones. Beautiful scenery, easy gradients with minimal climbs and just very pleasant easy cycling. There was some traffic, but nothing excessive and the miles flew by, the wheels turned with comfort. There are some times when you just feel in tune with your body and bike and this afternoon was one of those! Blissful!
We are staying at a charming B and B with a view of the sea. Arriving in good time we managed to get down to the water and dip our feet into the Med, before a beachside beer and G and T! Showered and refreshed we have eaten at the same place, freshly caught fish, beautifully cooked. It has been a really lovely day.
Quick quiz question for you in 'who said what!' This actually happened yesterday but I forgot to impart - there is so much I would like to share, it's very hard fitting it all in! So here are the options:
'This landscape reminds me of Tuscany in some ways…'
'That would be a great place for an airstrip!'
Guess who (HOO!)?
Also yesterday I forgot to say that we have had two days, when going through the countryside, where butterflies have joined us - so many and such a variety of colours and types. I think they must be making the most of the last of the pollen from those brave flowers, fighting their way to grow by the side of the road. Again a huge variety of blooms for a very barren landscape. We were also joined yesterday by 2 buzzards - we haven't seen them in quite a few days - so it was lovely to have their company once more.
My final ramblings for today:
City Cycling!
Message to brain - it's a city. Full concentration required. Antennae switched on, look everywhere, be brave and act big, be ready at traffic lights to set off quick, pray to Maddy!
Beeping!
There are quite a lot of people who beep at us. We are not quite sure why as it seems rather random. We think it could be for one of three reasons: 1. To say hello 2. To warn you they are coming 3. To tell you to get out of the way (often not possible to do!) - we respond to each beep the same - smile and wave!
General observation:
There are a huge number of car washes in Croatia.
That's it for now, more from here tomorrow, with our love P and J XX
Checking out the map at pit stop number one in the industrial area of Split.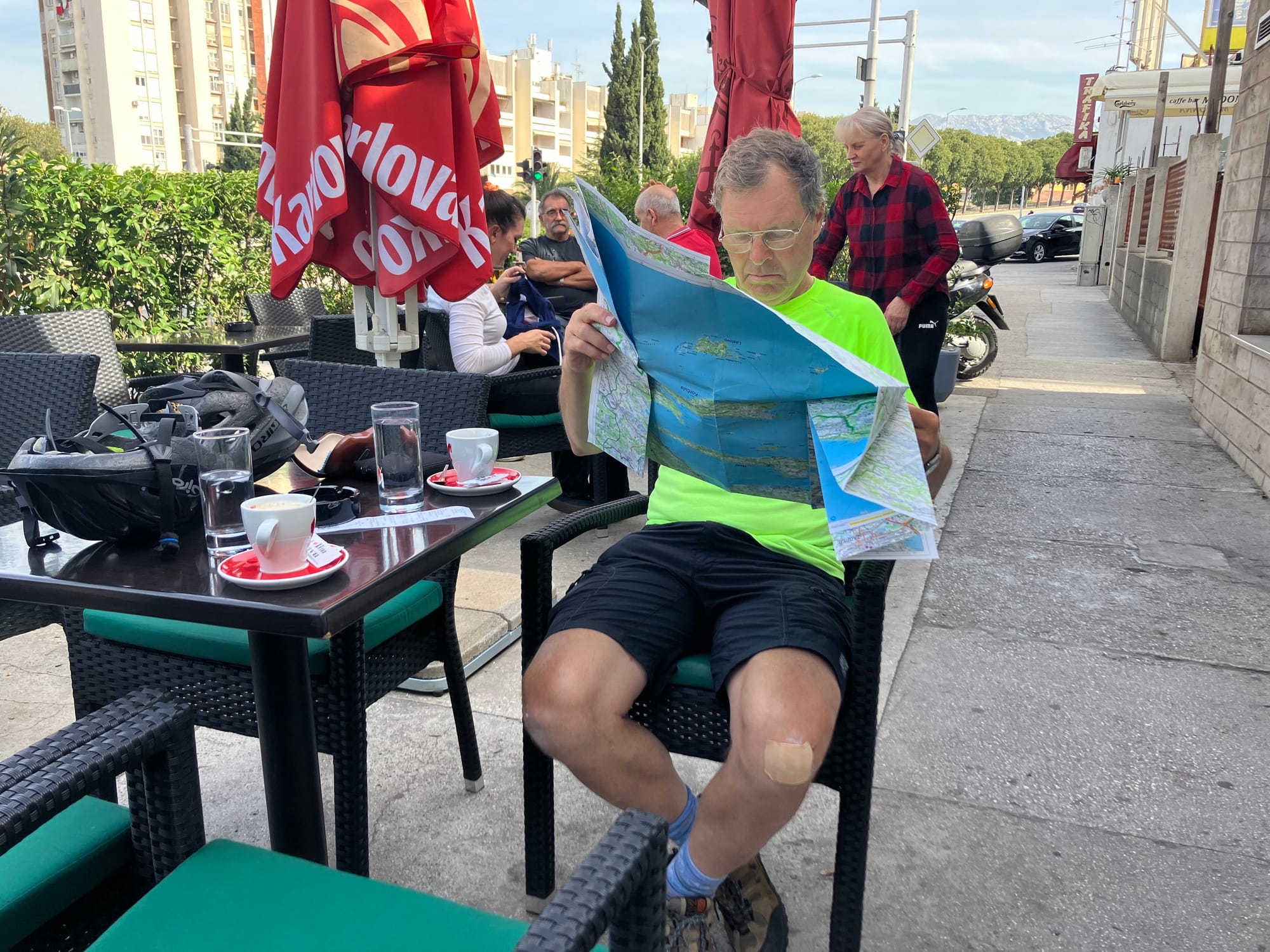 Slightly different view at pit stop number two!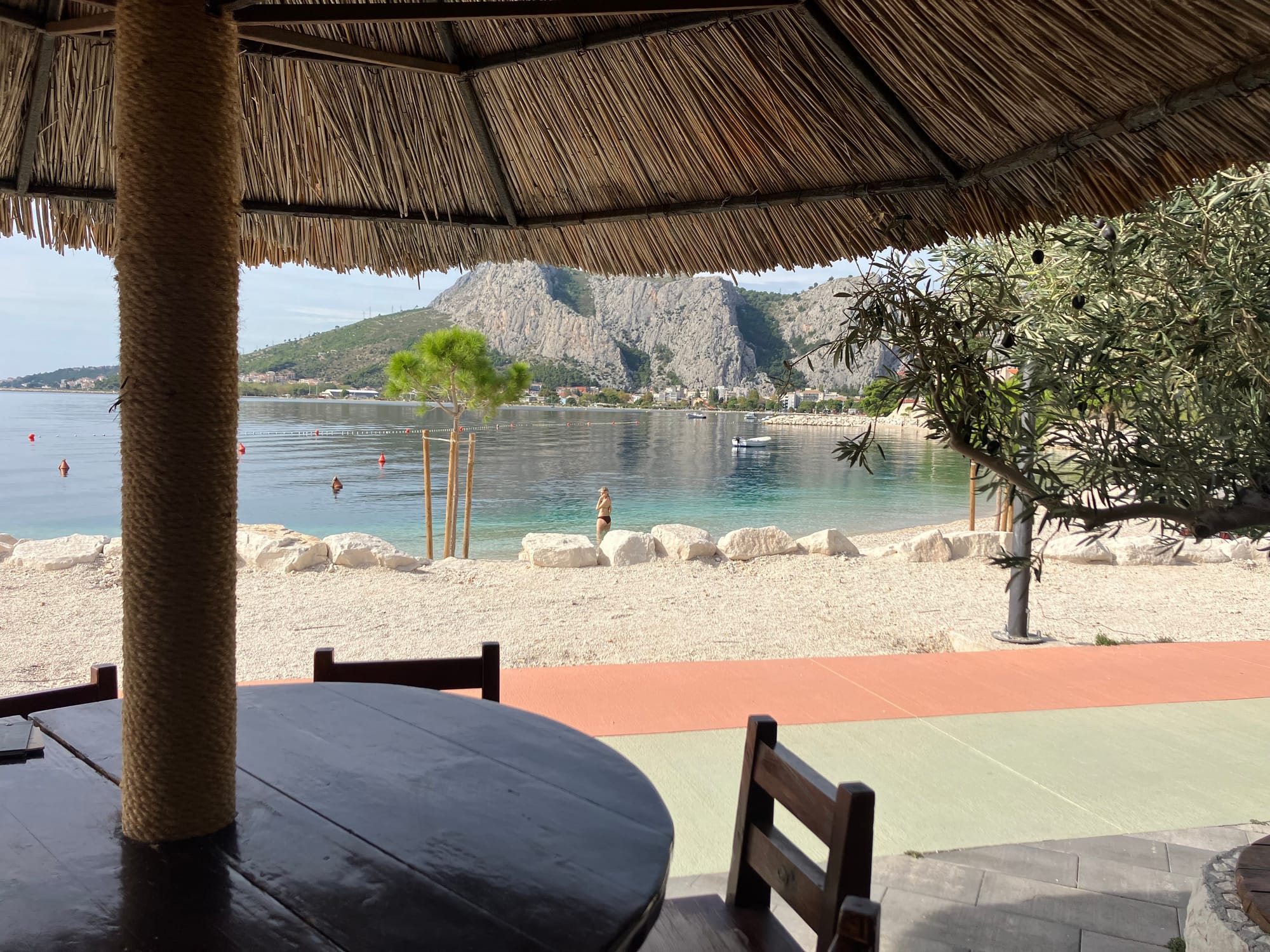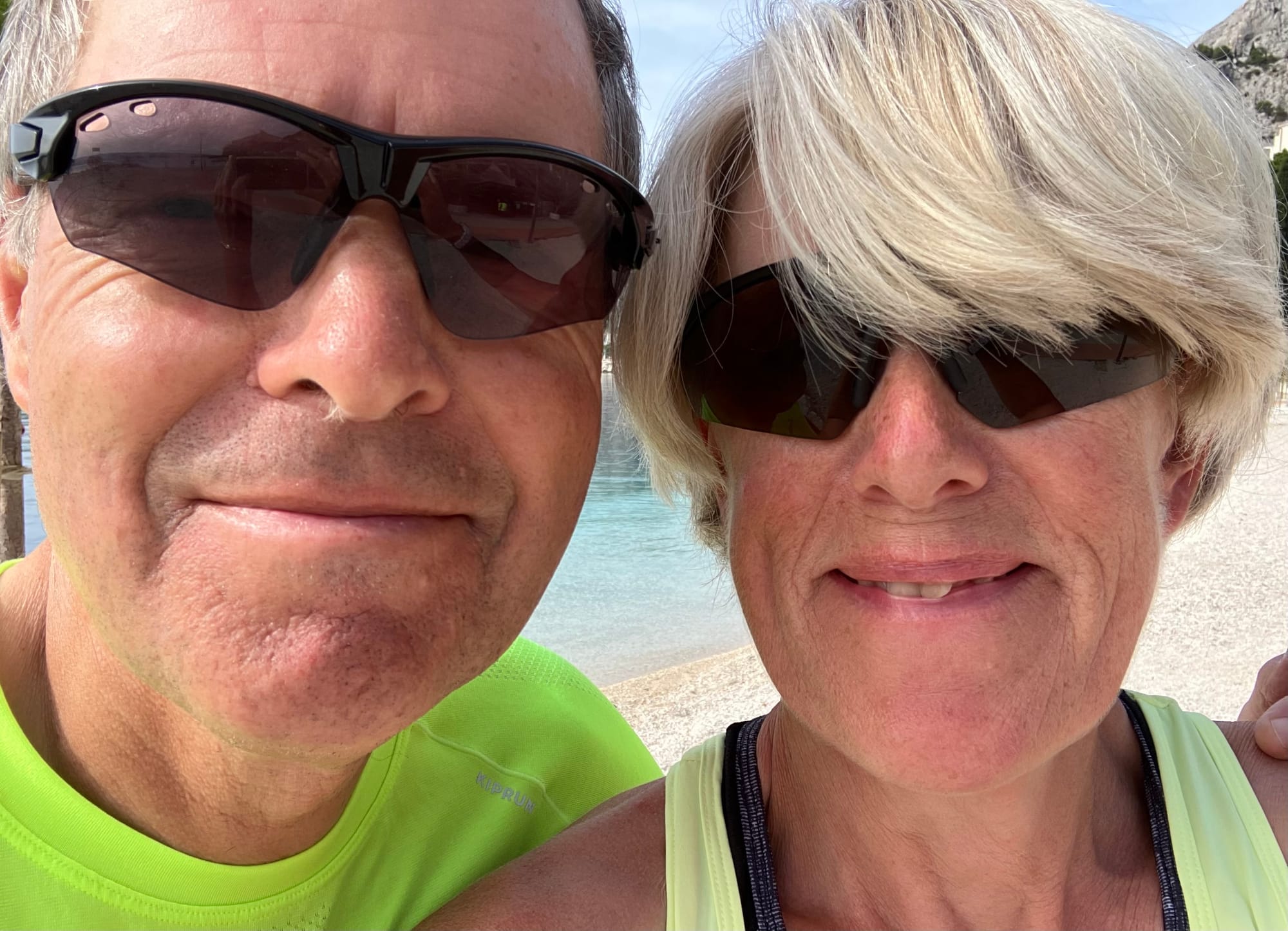 Quite high coast roads at times today!