Today's Stats
Ston in Croatia to Herceg-Novi in Montenegro!
58 miles in 5 hours 58 mins of pedalling!
Passports stamped!
Now we are 3 because we have Will too!
Total miles 1426!
After excellent sleeps we set off this morning in good heart and with hopeful minds! A new day and adventure ahead and a new country and meeting a friend at the end of the day.
Good breakfast spot!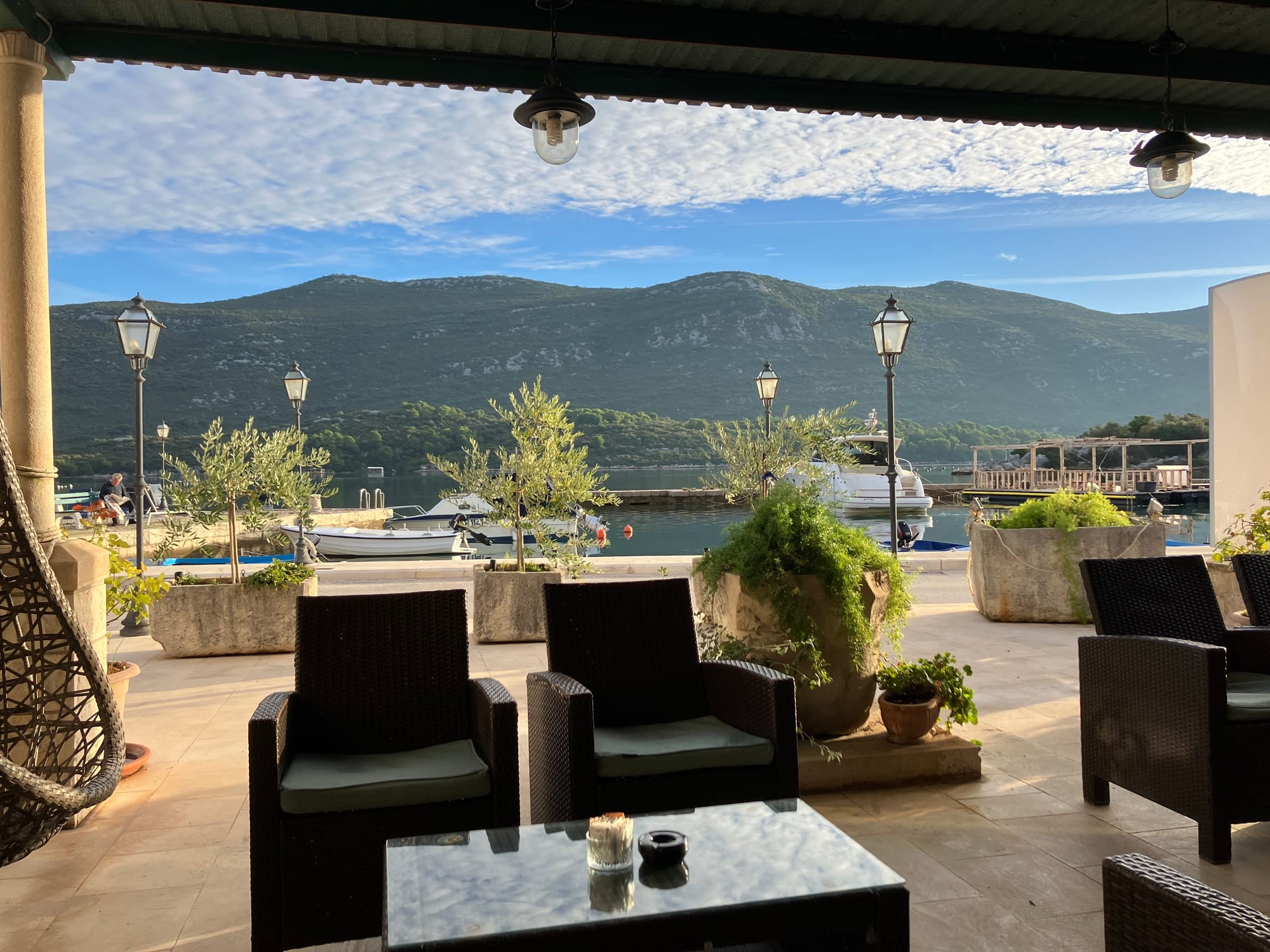 Ston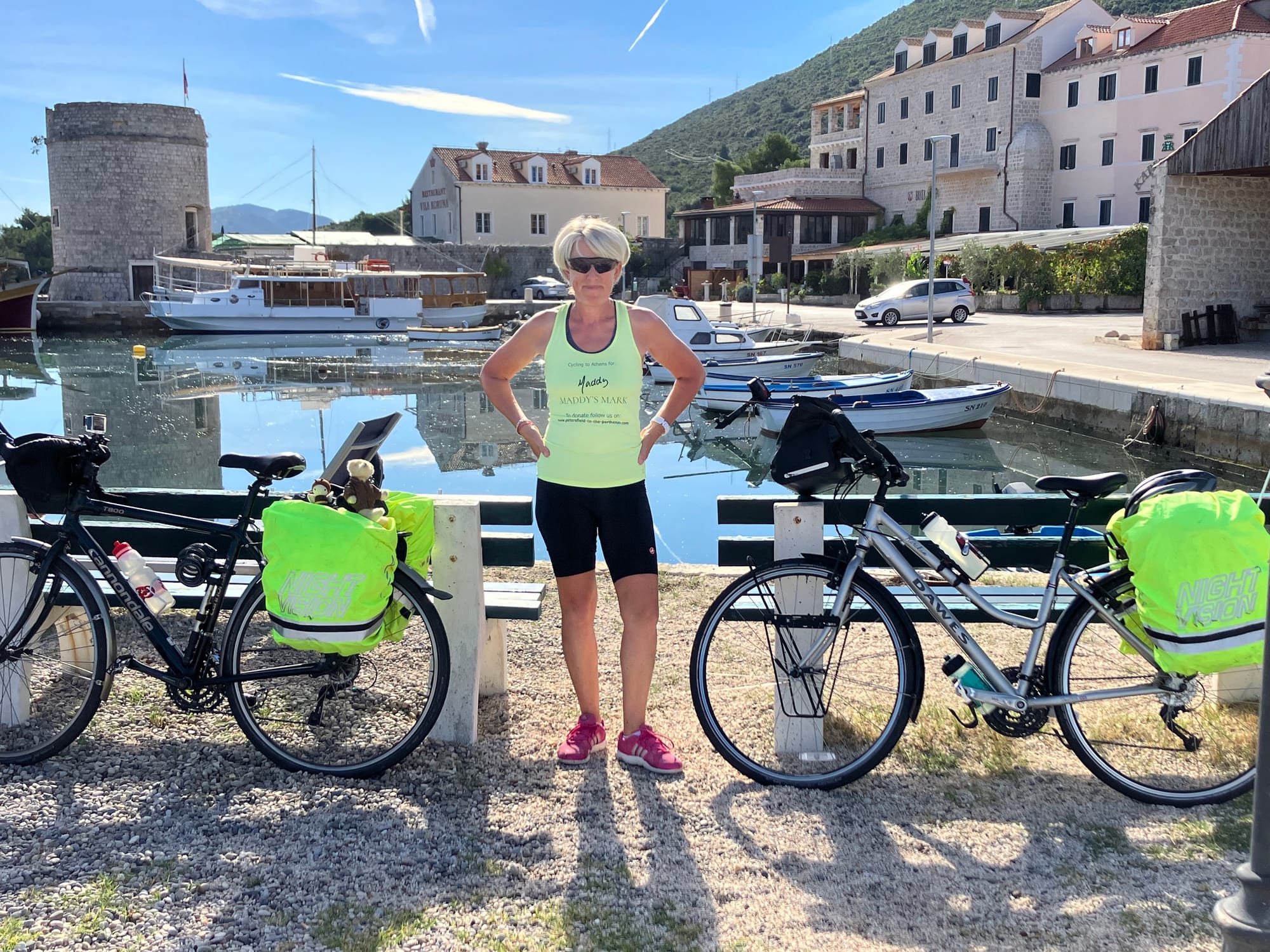 The weather was perfect again and already warm as we left and in fact it was probably our hottest day so far. Ston was beautiful and we cycled out of the marine reserve, wishing we had more time to explore - but no chance when you are trying to get to Athens - no sightseeing allowed! We joined the coast road once more which was slightly hilly but gentle and the miles slipped past. A lovely pit stop at a pretty marina cafe and another at a not so pretty cafe and we were suddenly on the outskirts of Dubrovnik. This involved crossing a hugely high bridge - not a murmur from ye who is scared of heights - almost blasé in their negotiating the look straight ahead approach - it's only a road repeated mantra - and we were across the other side. Avoiding the city, you climb a huge hill and have far reaching views of the ancient and modern city below. Slightly wobbly trying to get down the huge hill, with really heavy traffic passing close but soon we were heading down towards the border.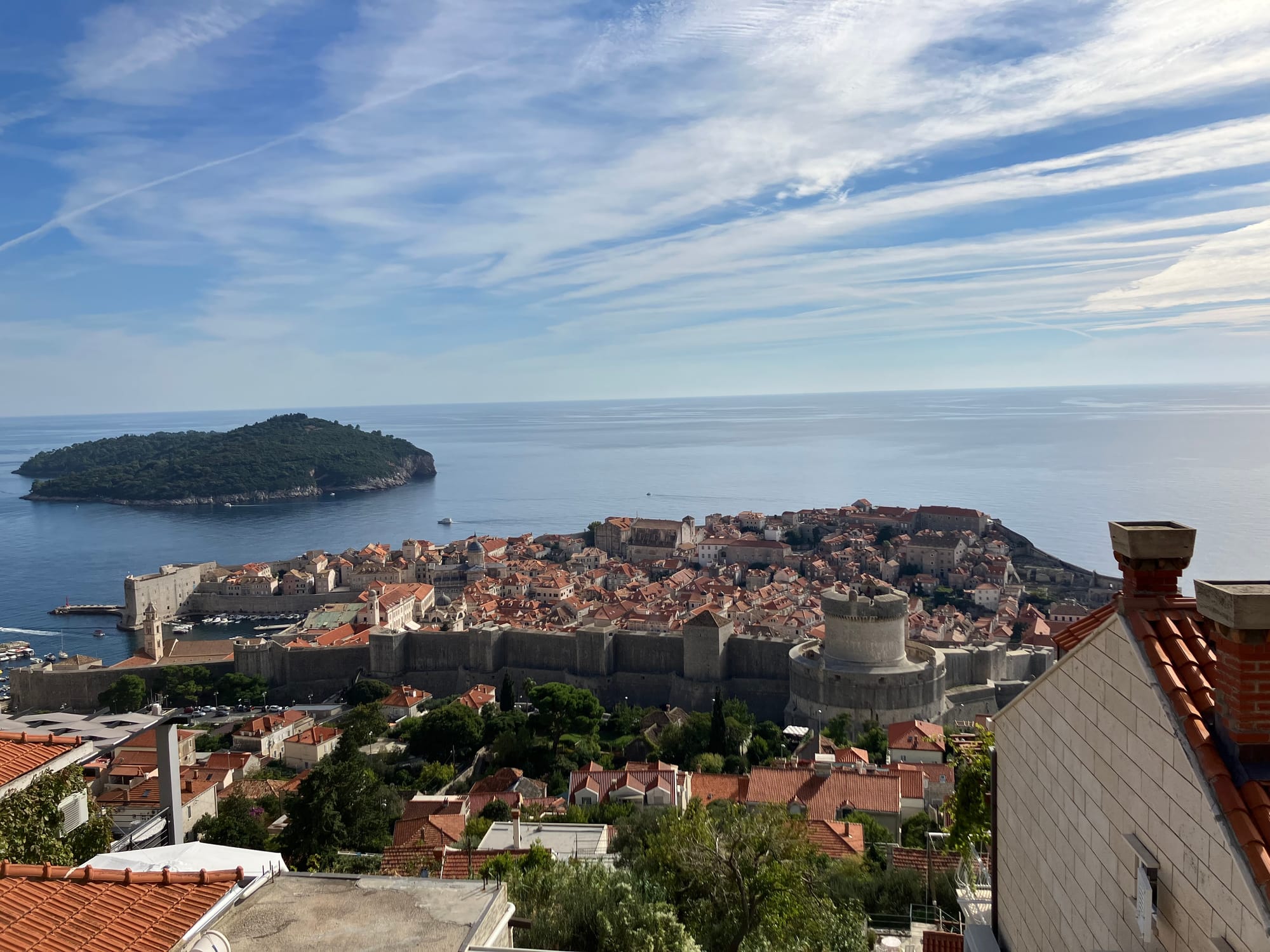 Crossing into Montenegro- passports stamped quickly - hurrah - we whizzed down the hill and thought it would be a descent of about 5 miles to our hotel. Unfortunately a large traffic jam appeared before us which turned out to be a customs border - oh dear - we had already overtaken a number of cars thinking it was traffic lights. We then waited politely with the cars until being told to go to the front by a very kindly man in a car. Seen quickly by a young Montenegrin official chap who asked how far we had come in a very serious custom style way. I said from England nervously and he responded 'On bike!' I nodded and he just looked at me and said, 'Respect'! And waved us on!
Finally, late and rather chilly we were met by Will outside our hotel filming us arrive. So refreshing to see his young smily face. It has been wonderful to share a drink and supper and plans for tomorrow - what fun it will be to be a little team of three.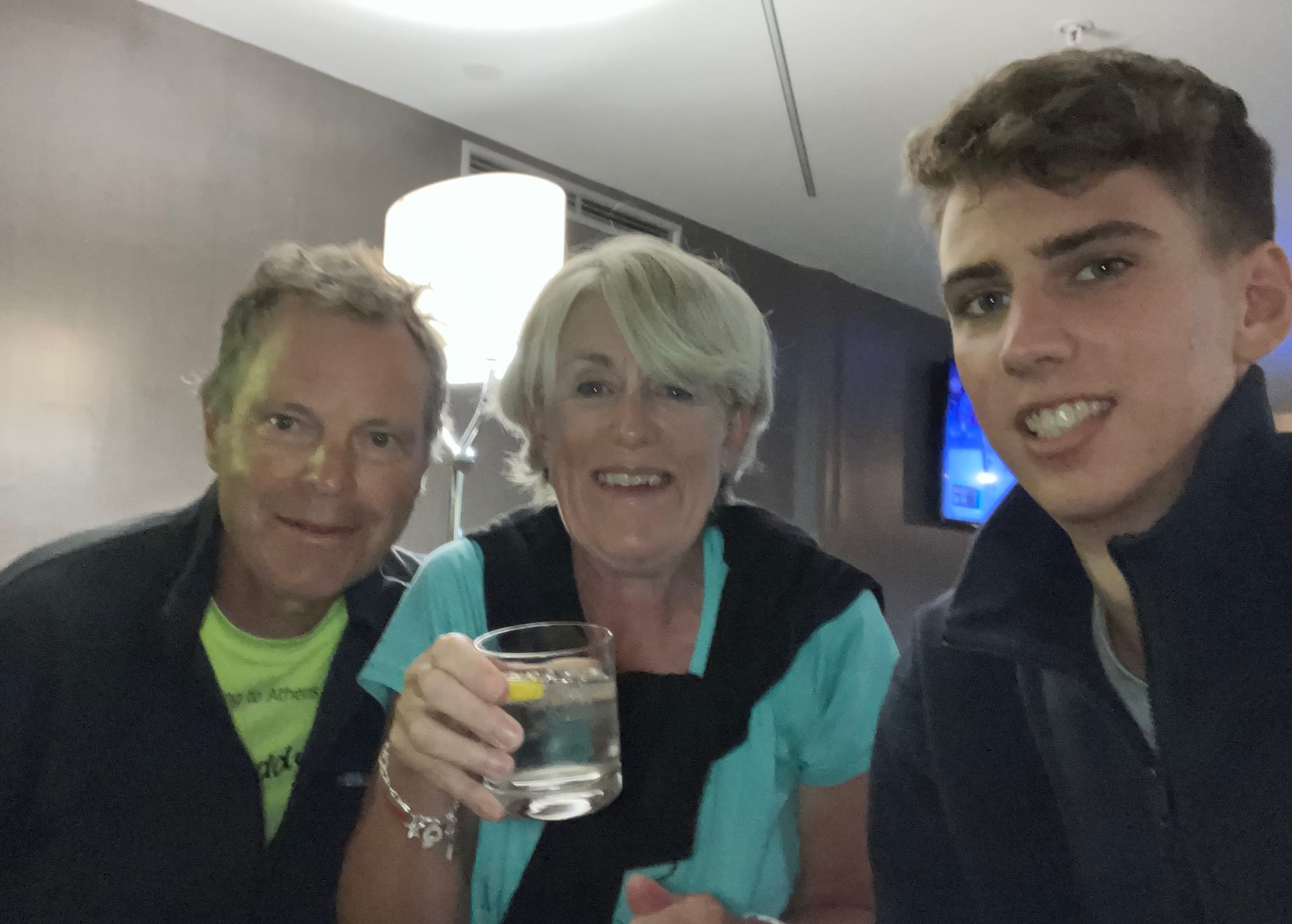 So it's goodbye to Croatia and thank you for having us. We will miss the beautiful coastline, kind hearted people and glorious weather but we will not miss the crazy drivers, huge drops with no barriers and stingy bees!
With our love P and J XX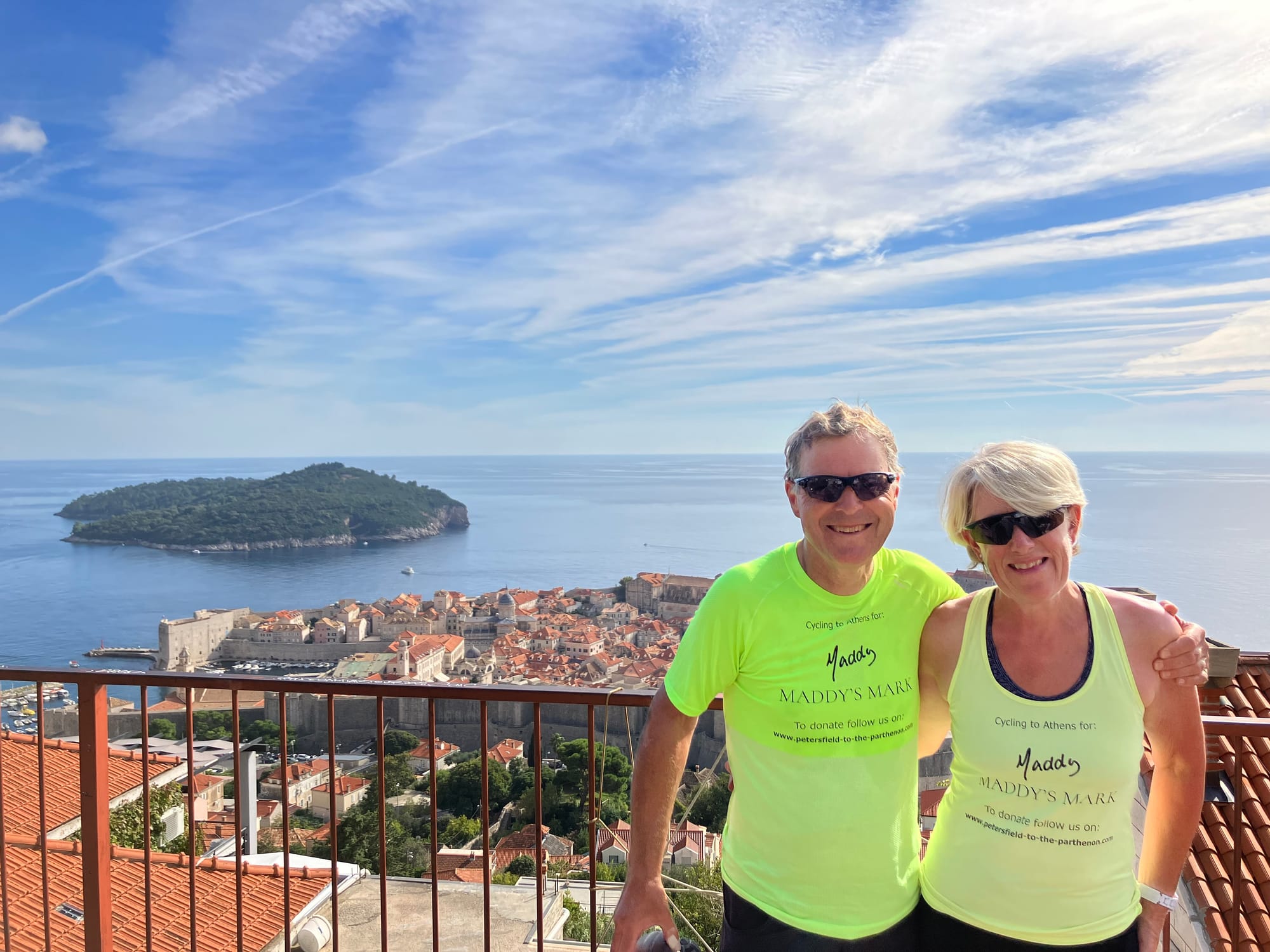 After thought - traffic lights….
There is a skill to negotiating traffic lights for road works on a bicycle. It is fine if they are short and straight and you can see the end - you just have to pedal very quickly until you are through but if they are long and go around a bend you have no idea if you are going to make it in time as you are much slower than a car and although the lights were green when you set off, by the time you are some way along them the lights may have changed and you are faced with the oncoming traffic. Coping with this takes a combination of pedalling like a demon, pulling over suddenly into the road works or pressing yourself and your bike against the sides of a tunnel - all of which we have had to do at some point in our cycle touring adventures!