Today's Stats:
Bar in Montenegro to Milot, Albania!
56 miles and 4 hours and 52 mins in the saddle
Total miles - 1533!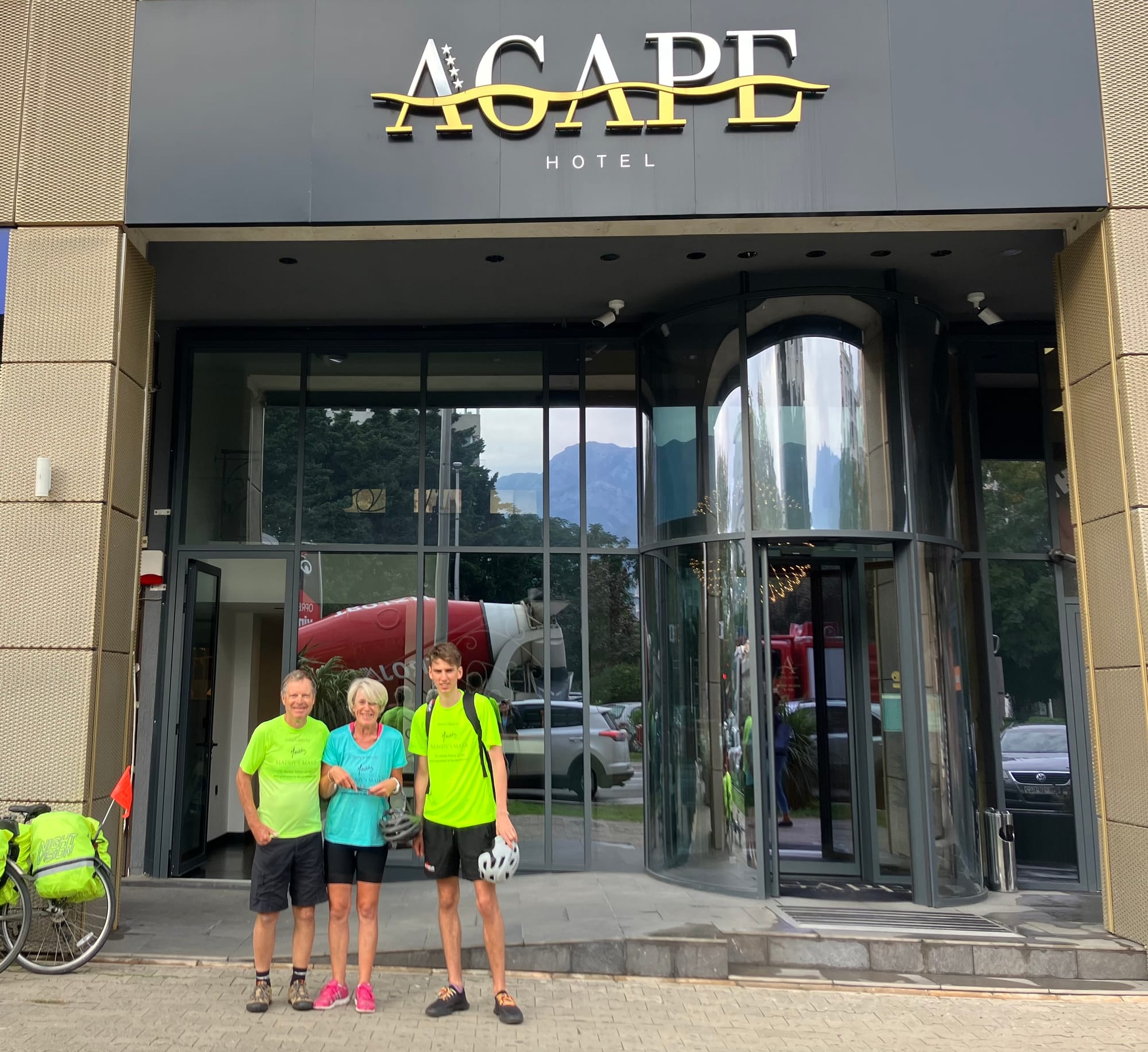 Team Maddy left Montenegro in good spirits after a huge breakfast- offered eggs and bacon- HOO and I accepted gratefully - 3 eggs each! Wow did those pedals turn quickly! Will - now affectionately known as Hare, because he hares up the hills and generally most of the time - had scrambled, also a huge quantity and we certainly all hared along today!
Leaving Montenegro from Bar meant some fun,large town nipping until we joined a calm and peaceful country road, climbing slowly up into the hills, despite a long slow ascent it was a pleasant change to be out in the country once more and refreshing to see a different side of Montenegro. Until now the coastal region has seemed like one large tourist development with some pretty parts but rather manufactured than old and historic - maybe we just haven't seen the very beautiful bits - we have only seen a tiny part of the whole. However, up in the hills we saw people harvesting olives, sheep and cattle grazing, a herd of sheep even came towards us on the road as we started to descend, followed some way behind by the shepherd in a Mercedes! There was an abundance of produce being sold outside houses - strings of garlic, figs and chestnuts. We saw a group of touring walkers with large rucksacks including their dog who had his own saddle bag! Old tractors passed often, with smiles and waves, it was a charming cycle. Our descent was great fun, with a pit stop at the small village at the bottom. The only negative about this beautiful route was the amount of rubbish we saw, it was everywhere dumped in the bushes or by the side of the road- plastic bottles, cans, clothes, bags of whatever - really sad to see.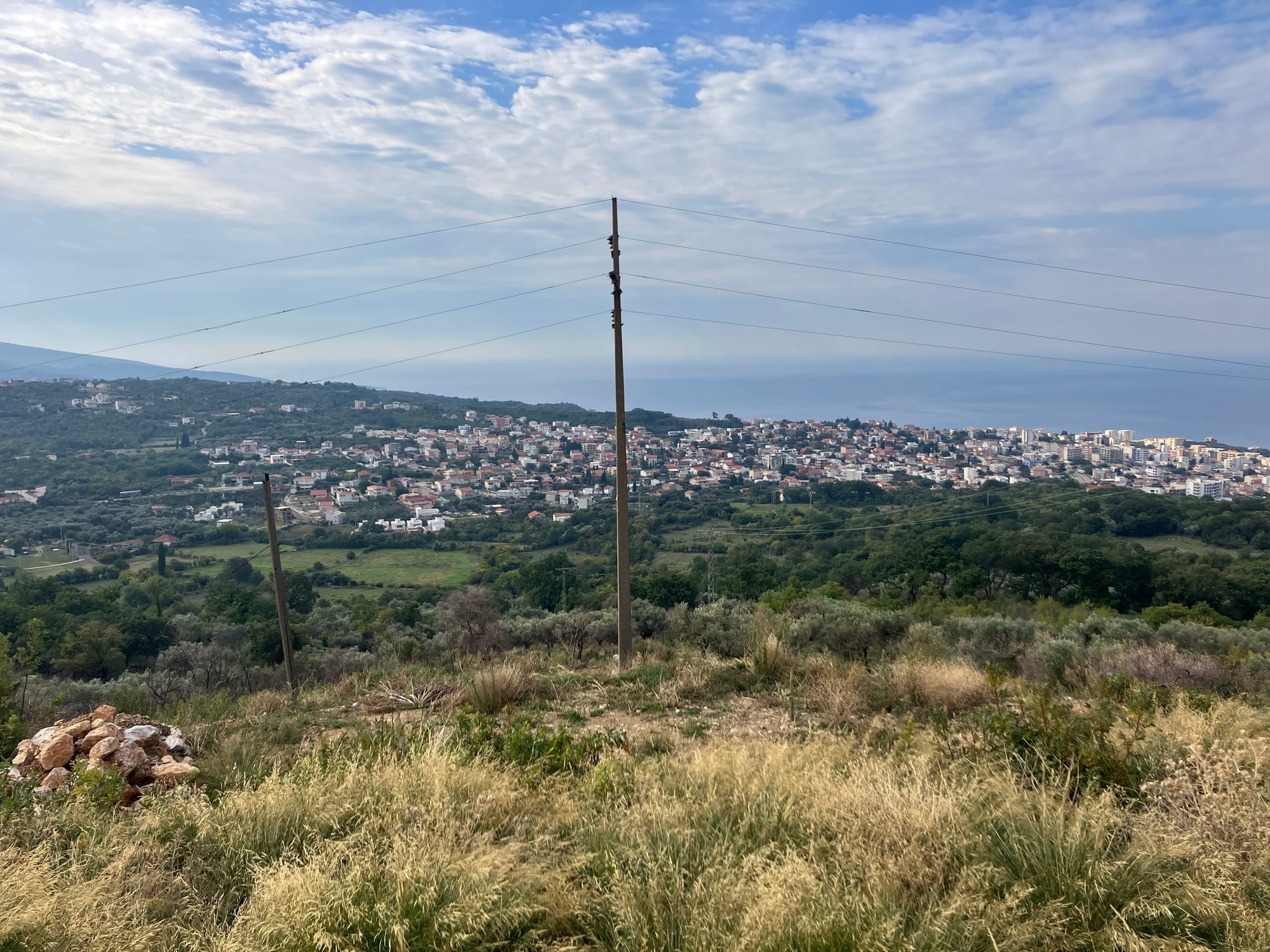 The main road down to the border was an easy few miles, good surface and downhill and then it was goodbye Montenegro and hello to Albania. The border crossing officials were very pleasant and we were suddenly in another country with a very different feel about it. The original road was rural, with small mosques with tall minarets in each village. We heard the call to prayer as we headed down into a town, crossing a large river where we stopped at a hotel's cafe for pit stop number 2!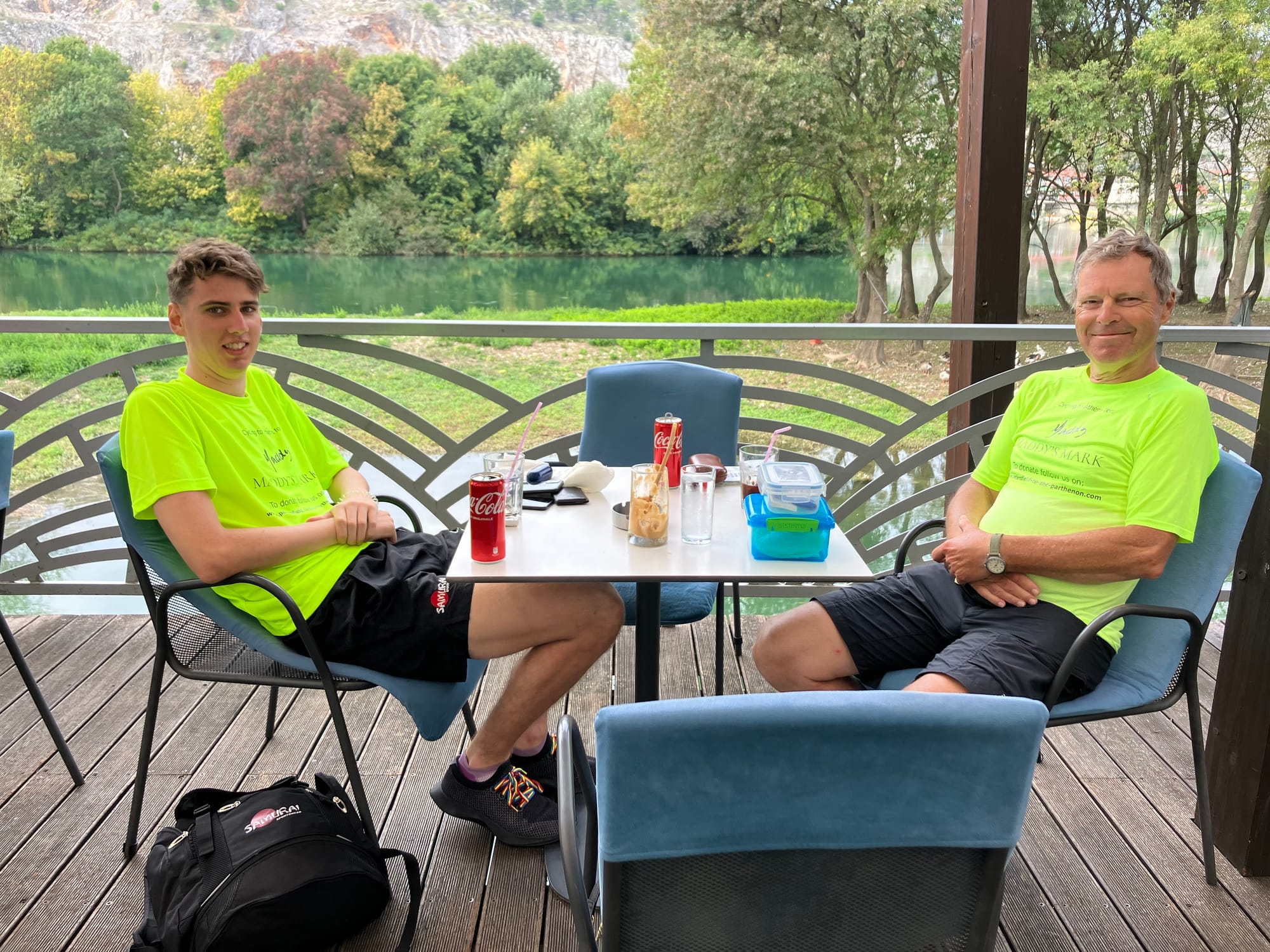 Our first major town in Albania was interesting to cycle through. People selling fish by the side of the road, a horse and cart amongst the busy traffic, stray dogs and rather rank odours - it was certainly an assault on the senses. We then joined the main road which we stayed on all the way to our hotel. A fast single carriage way we have made great time but it was a road where antennae were on full alert. Respectful lorries but very fast cars, coming past you or overtaking towards you. Lots of waves and beeping and smiles but hairy! Pausing briefly at a side road, a motorbike stopped, visor up and, "Where you from?" Was asked quite bluntly. We answered and then had a very amiable chat about our cycle before visor down and off he set!
Our bikes are now cosy in the hotel shed, we have negotiated walking down a dual carriageway in the dark to try and find some supper, followed somewhere in the darkness by the howling and barking of stray dogs. After our 'interesting' meal (cycling might not be the only thing we need to survive in Albania!), we have been driven home by the restaurant owner, dismissing our attempts to put on seat belts! 'Not needed' he said! We weren't so sure about that!
Poor HOO has been labouring over tomorrow's route for hours as we tackle getting around the capital of Tiranë and a potential long stint on a dual carriage way! Hare is raiding the minibar for Pringles in the hope that he has some sustenance to maintain his outstanding cycling performance - and no Henry, (Hare's big brother) it is not all due to him wearing your bicycle helmet rather than his own!
So to bed for us it is…. Long day tomorrow and quite a big one by the sounds of it. Athens still seems some way in the distance tonight, even if we did go over 1500 miles today!

Once again we have been touched by the kindness of the people around us and are also very grateful to you all at home for your comments, messages and support
With our love HOO, Hare and little old me XXX
Something I have been meaning to share with you all for some time. I have been thinking of all the things that cross the road in-front of us as we cycle the long road to A. We have seen in various countries: caterpillars the length of my hand, various beetles, centipedes, squirrels, slow worms, dead snakes, a polecat we think, crickets, grasshoppers, and my absolute favourite - 2 praying mantis whist in Slovenia. I have had to ask the help of some young zoologists in the family to check this out. Sadly I still haven't seen any wild boar but do you know there are small short sighted brown bears in Albania and so who knows - maybe one of those will trundle across our path. My young zoologists had to help me with this fact too! Thank you to the smalls in my family for being so clever and wonderful XXX
Not so many photos today - no time to stop!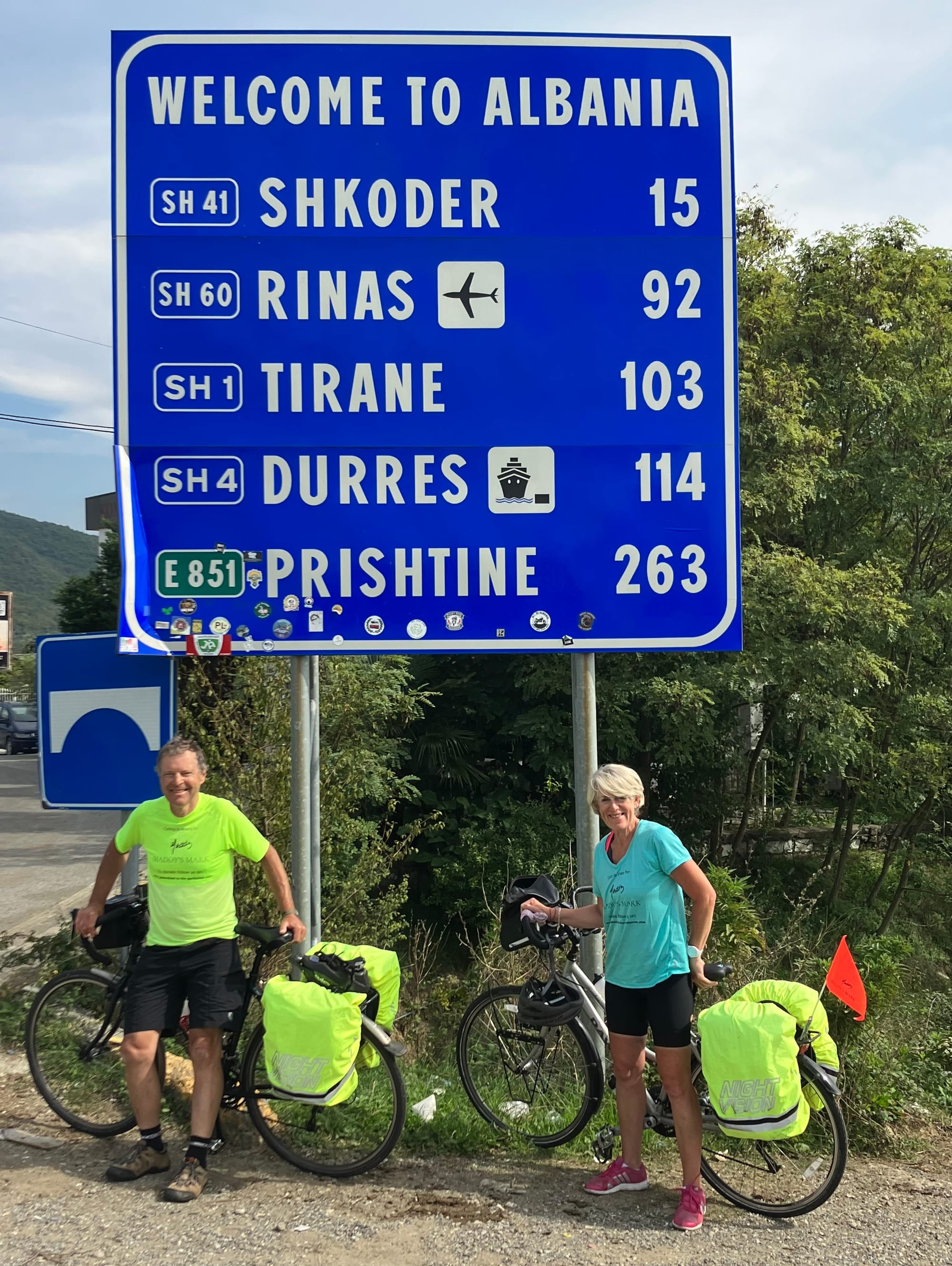 1500 mile selfie!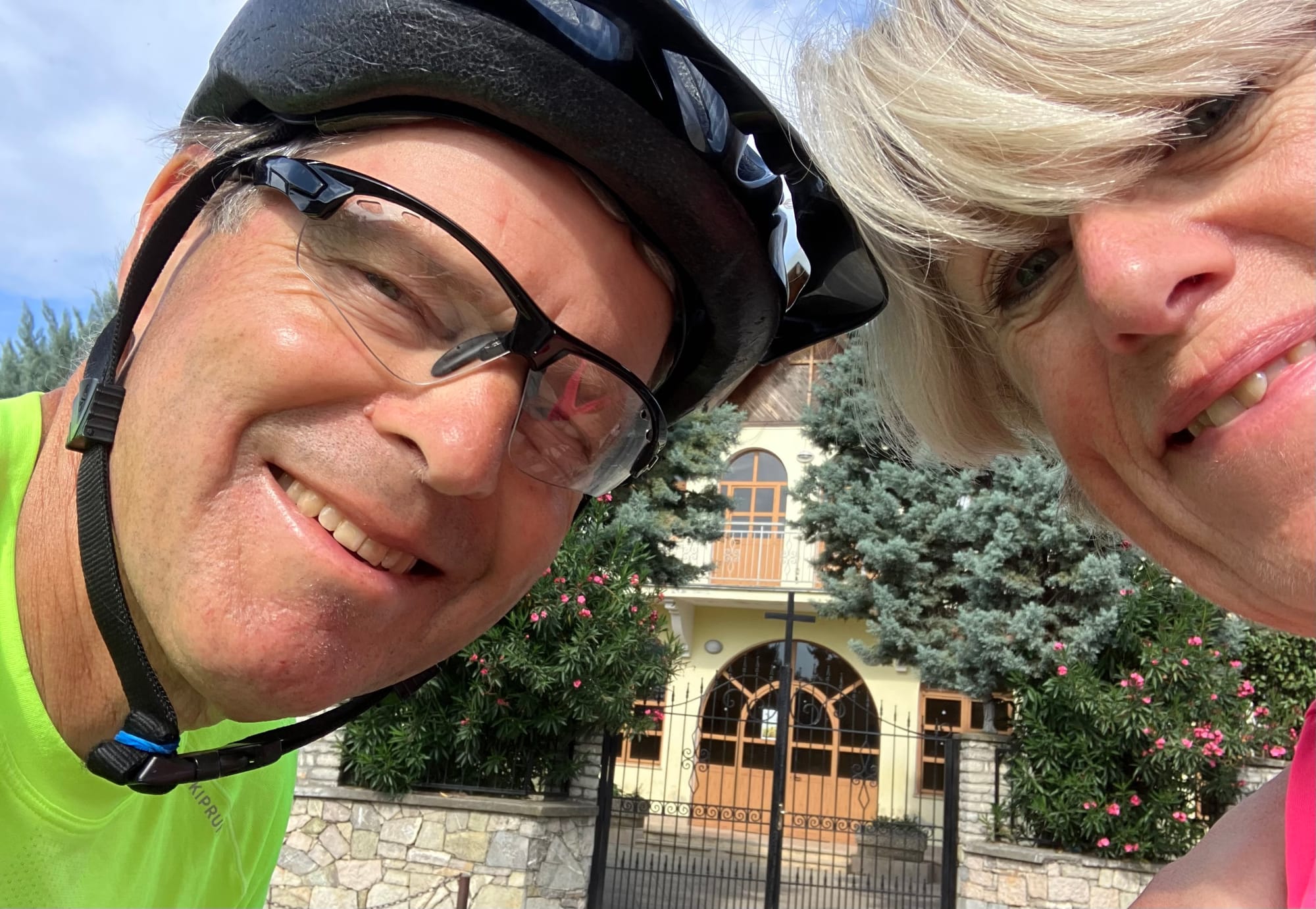 By the side of a road in Albania!