Today's Stats:
Milot to Elbasan 49 miles
4 hours 56 minutes in the saddle
Total miles 1582
Rain, dual carriageway, capital city and a 2.65 km tunnel!
It was raining when we left our hotel this morning- not heavily but a persistent drizzle that eased every now and again. We spent the first 8 miles on the dual carriageway- never my most favourite thing, but yesterday on the single carriage way the cars were going so fast I thought well they can't go much faster! Also at least on the dual carriageway we have a hard shoulder where we cycle, so really it's like our own cycle path.
After our first pit stop we joined the single carriage way again, not the best surface and very wet. With the spray from the cars and lorries and heavy traffic, we felt hot and filthy very soon!
Overall the lorries were very respectful all day today, it is just the speed and volume that is challenging as you have to really focus the whole time. It was not a physically challenging day but it was definitely a mentally exhausting one.
We had a quick break at 30 miles on the outskirts of the capital, Tiranë and then we took a deep breath and fought our way through the city. It was somewhat like being on the Westway or the North Circular in London but without the rules. Our dual carriage way became 3 and then 4 lanes, traffic merging from every direction. I had HOO in front of me and Hare behind me, doing a wonderful job of guiding me through - I felt very protected and looked after. I think we must have been quite a sight with our brightly coloured clothes and Team Maddy approach! Six miles of city slipping and sliding and we were on a dual carriageway out of the hubbub.
Our reward was lunch in a restaurant of a hotel! A proper affair, not a stolen breakfast sandwich by the side of the road! And no alcohol involved - just coke - they have no Coke Zero here so 'Full fat coke' it was!
As per usual our afternoon involved some hardship hill - this time up the dual carriageway and then at the top of this there was a tunnel, a long tunnel. Unfortunately once more it said no bikes and as we were standing there considering our options, a guardian angel appeared in the form of a man, a very kind and helpful man who turned out to be a highways official of some kind. Expecting to be turned away, he instead recommended we walk the tunnel pavement with our bikes as it is too dangerous to cycle on the road! Thanking him for his help, we put our lights on and set off quickly, just wanting it to be over. Walking just over 2.5 km went pretty fast but it is not an experience I need to repeat. On to our bikes once more as soon as we were out of the terrifying noise funnel, it was downhill from there all the way to Elbasan and once more we have a very comfortable abode for the night.
Tonight we have eaten in an Italian across the road- escorted by the manager with an umbrella as it was raining heavily and on our way back the rain was so torrential that Hare, hared back to the hotel and returned with an umbrella in true knight in shining armour style - loads of brownie points from me!
Today was a challenging day for HOO with so many hazards to negotiate on our route and no easy way around them and there is a great sense of relief that we are all in one piece - a responsibility he takes very seriously. Thank you lovely one for guiding us through.
Today has not been a charming cycle, there has been no pretty scenery or staggering views - it has been a filthy dirty, scary and yet somewhat exhilarating day - in hindsight!
I do want to highlight some of my ponderings when I wasn't praying! There is a whole life that goes on, on the hard shoulder of the dual carriage way in Albania. We passed cyclists coming towards us with laden down bicycles, an old man leading a cow, people getting in and out of cars, mothers with children waiting for lifts (or a bus we never saw), a woman just standing there with an umbrella over her knees and various men meeting and greeting each other as they walked or crossed the road! Finally fruit and vegetable stalls as the cars zoom by at 100 mph. There are also a large number of armchairs at various points by the side of Albanian roads!
And so to bed - not many pretty photos for you today I'm afraid, I shall try harder tomorrow when we are hopefully not on crazy, mucky roads.
With much love, HOO and Hare and little old me XXX
Thank you so much for the suggestion that I too should have an 'H' name and the idea that Hawk would be good as I notice things with these old eyes. HOO says I should be Honey - which is sweet HAHA - but once our Hare has zoomed off on Thursday we will just be P and J again I think!
Ah can't resist a quick go at, who said what! Don't forget there are three of us….

'I hope I haven't forgotten my passport'
'They look like kiwis on that vine'
'Those water tanks won't give you much pressure for your shower.'

Bye for now!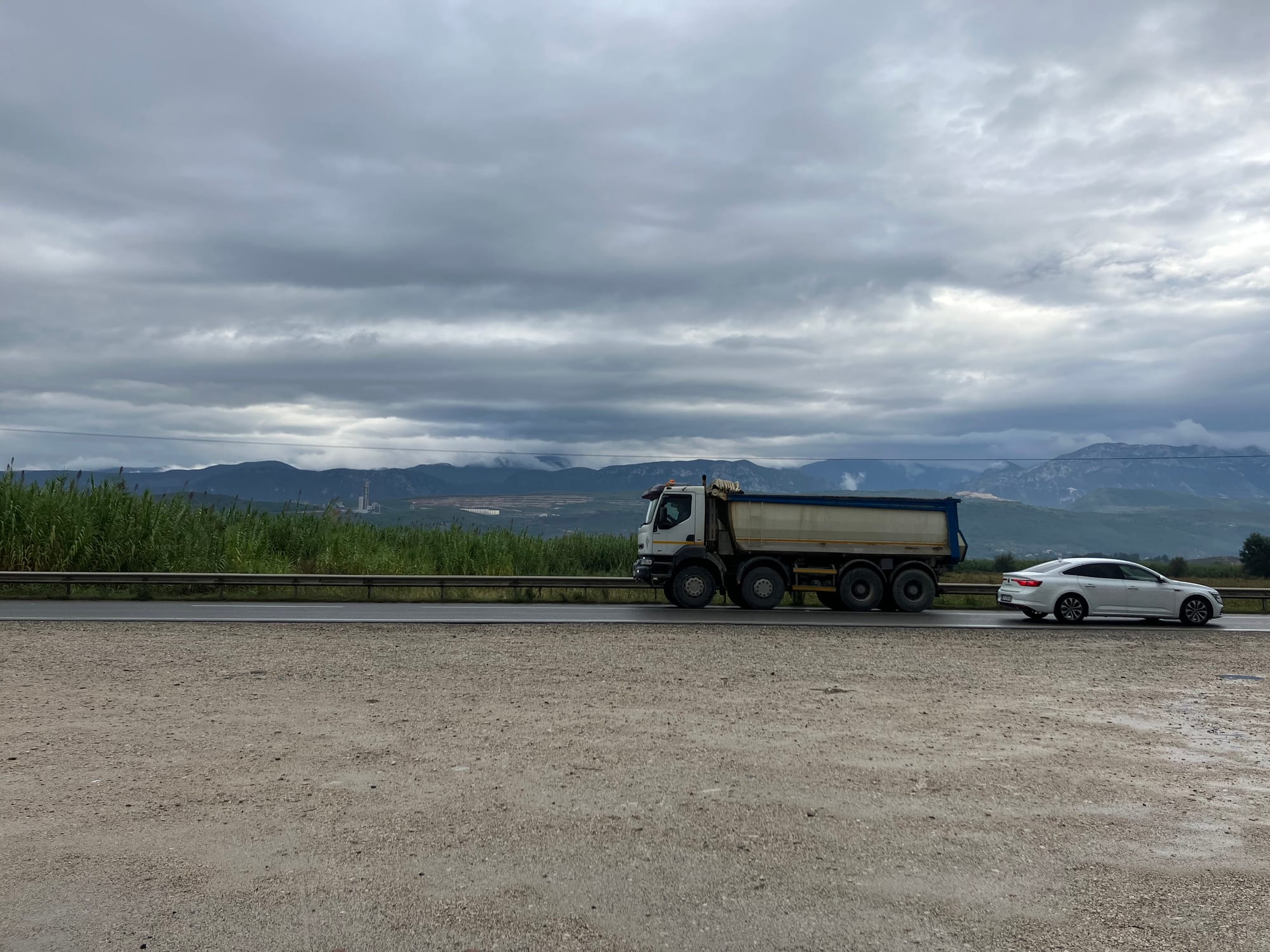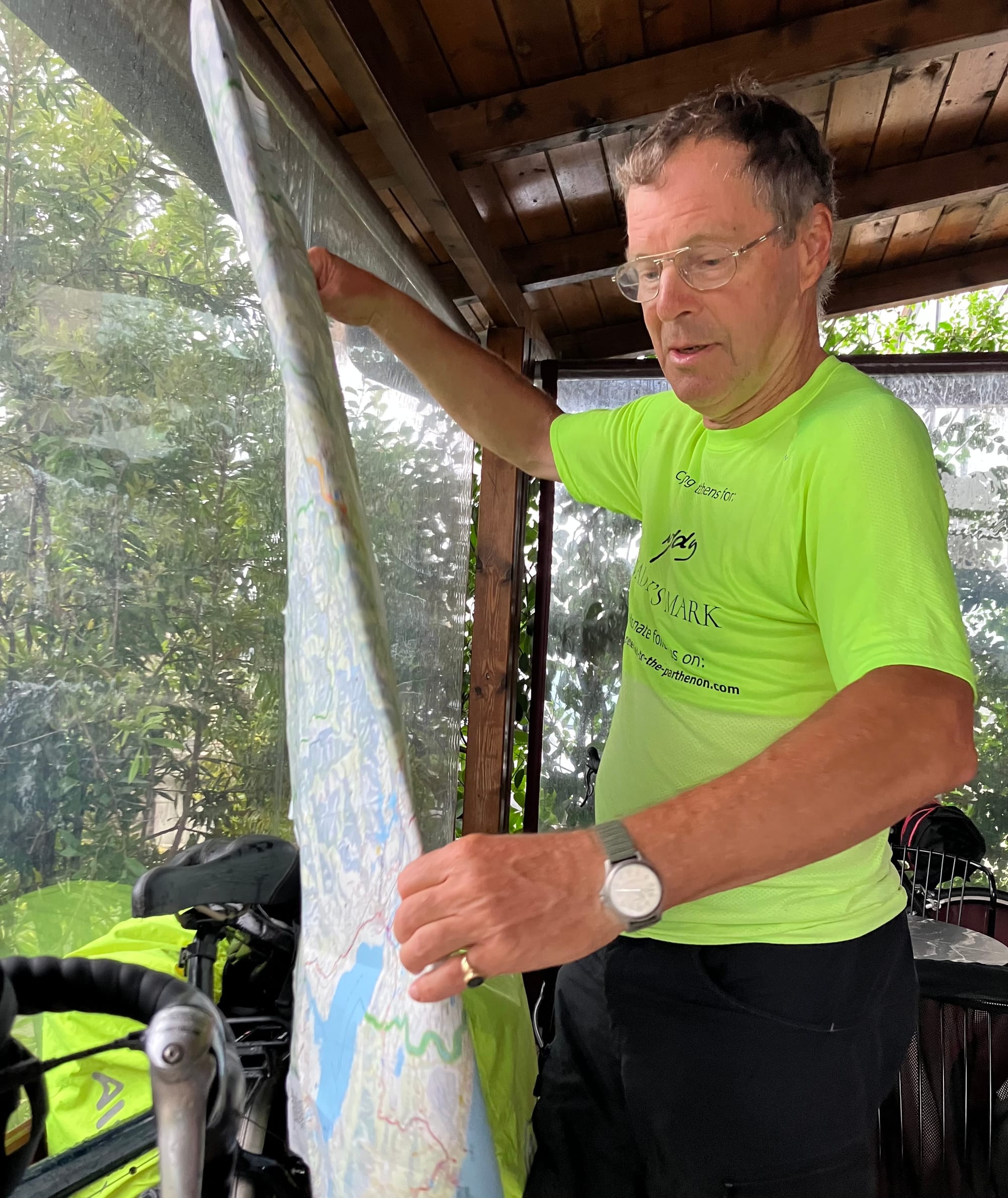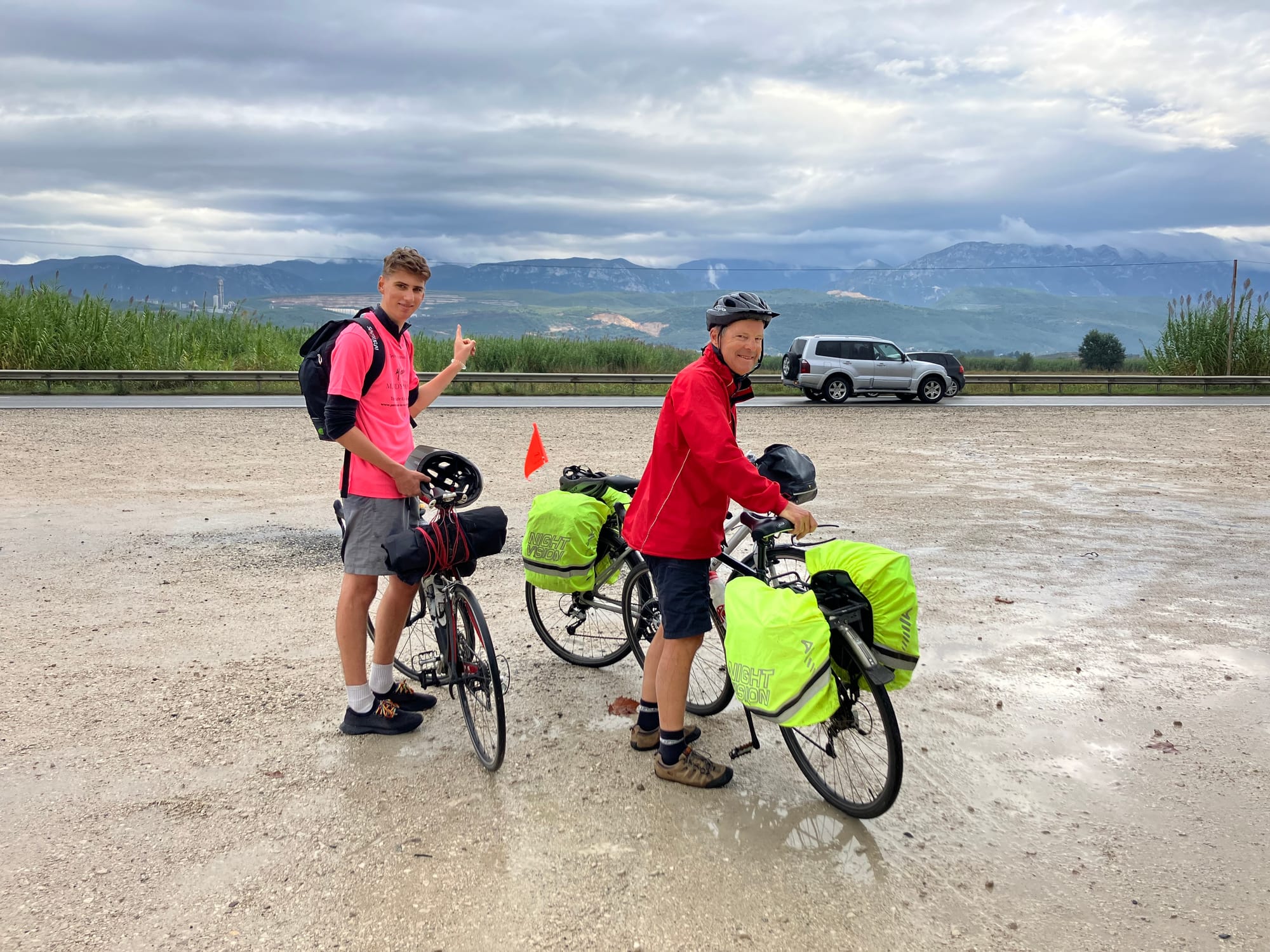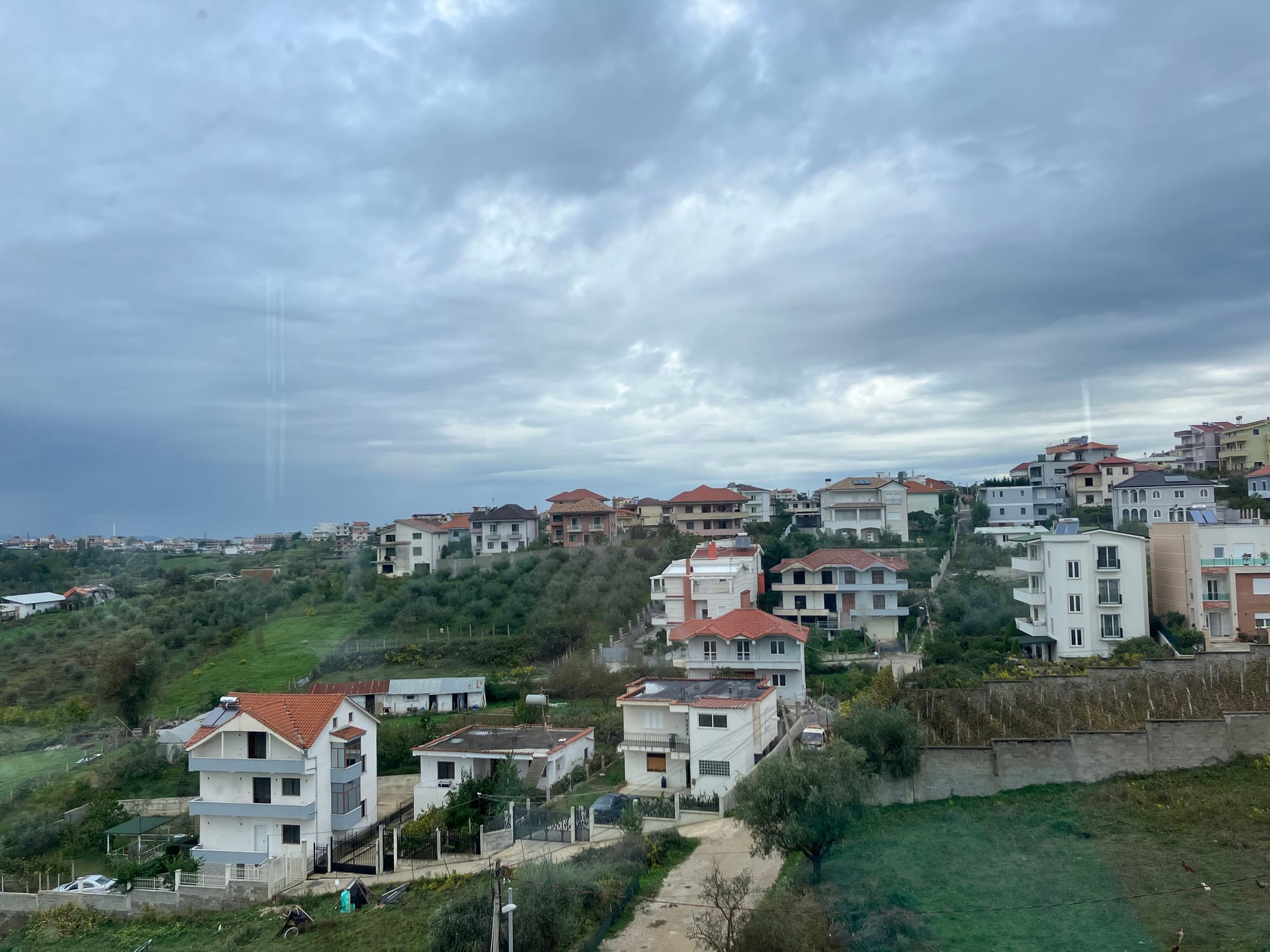 Best bit of the day!