We have done it - the dreaded third day when your body says "What we are doing this again?"
So today's vital stats! We have travelled 55 miles in 5 hours and 6 minutes at an average speed of 10.8 mph! We left Ecluzelles at 10 and arrived in Jouy, near Guigneville at 5.30 this evening. We think we might be through Normandy now!
Our hosts last night, Nadia and Christian, were lovely and it is funny when rugby is the topic of conversation how there is no language barrier! Their son and daughter both play as did Christian. Toulon supporters! How Maddy would enjoy that.
Phil has summed up today perfectly - it was functional - endless roads with similar landscape and we just had to pedal - some long slow hills, some unpleasant road surfaces, but overall easy cycling - just boring! However the sun shone on us and the temperature was about 24 degrees so it's to smile about - and I didn't fall off my bike!
Miles and miles of this!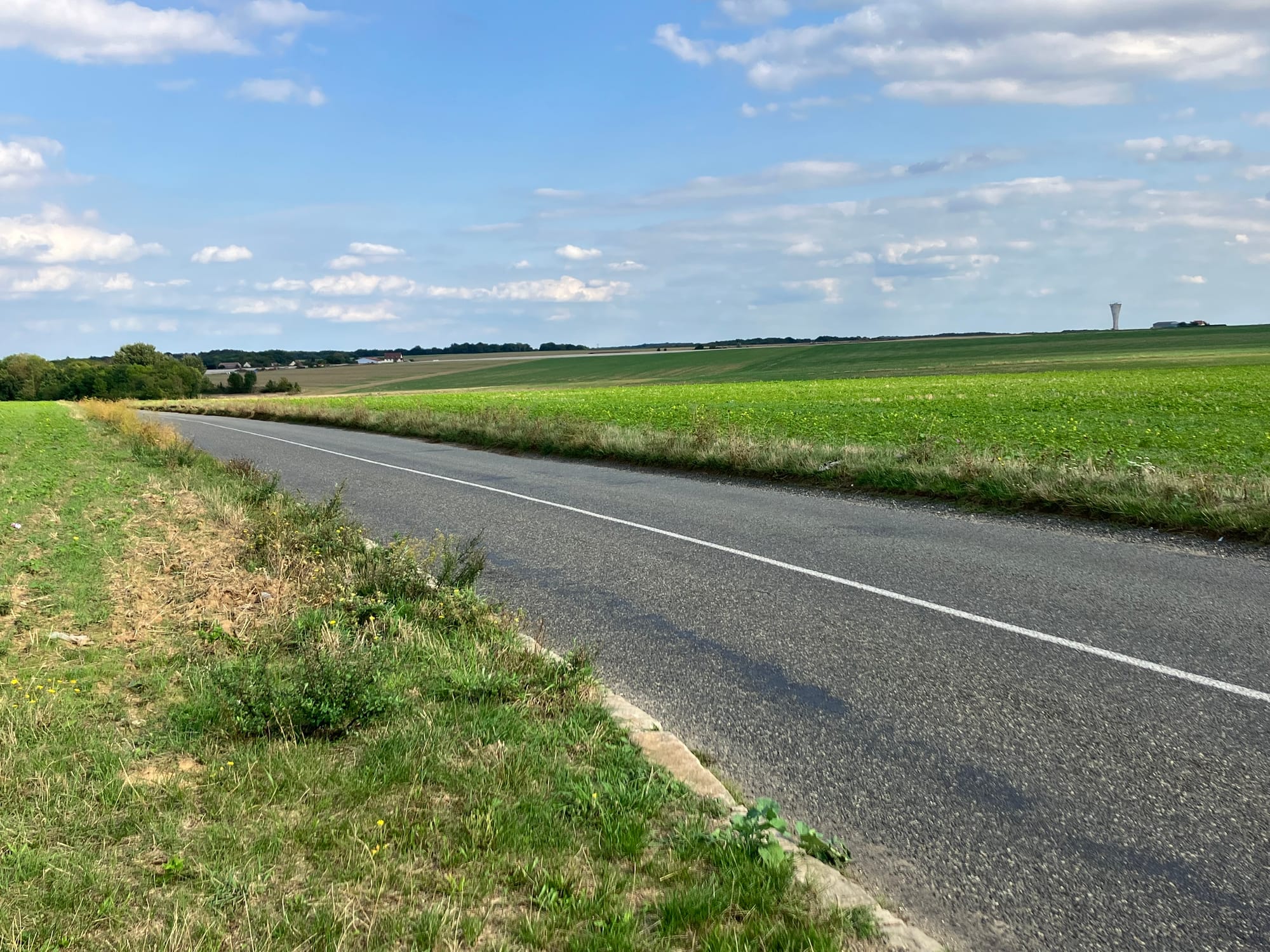 We have whizzed through some large towns and cities today - Nogent-le-Roy, Epernon, Dourdan - one way systems are really annoying and often result in having to do 2 sides of a triangle, instead of the most direct route. Other annoyances will follow as they come to us! I'm sure there will be many but hopefully outweighed by the blessings.
Coffee and cake in Dourdan!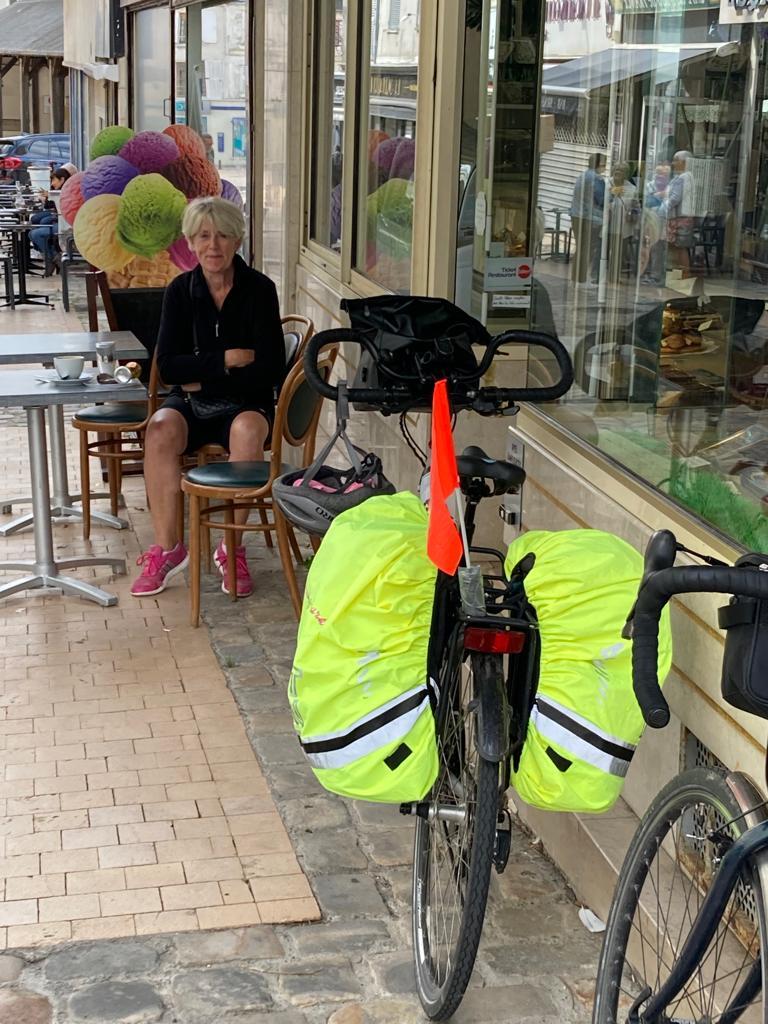 We have established a routine now and try to break after every 15 miles to replenish ourselves in some way - could be a coffee or drink somewhere or could just be a field or road side where we break for 15-30 mins and have a snack and stretch. This is helping keep some fuel in the tank and breaks things up a bit. Today our 45 mile stop was much of the same huge endless landscape where we lay down the bikes and ourselves and watched the clouds - restorative - that last 20 miles is proving to be the hardest bit.
Dr Taylor and the field after 45 miles!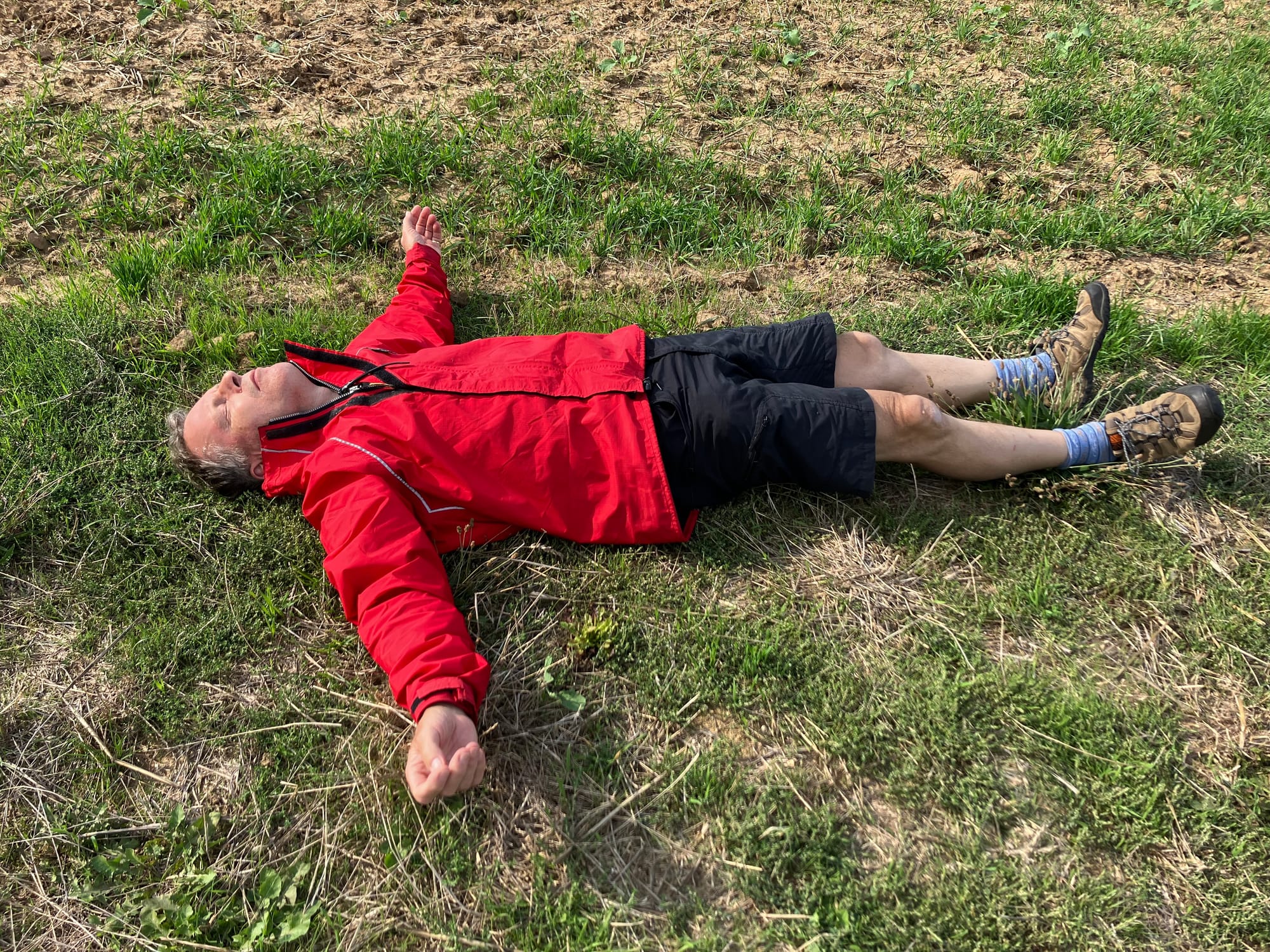 Safe arrival at a hard to find B and B has now resulted in takeaway pizza, washing and showers and very soon BED! We are both a bit tired!
Other ramblings that I think of as the wheels go around:
Why are there so many water towers in France?
I say hello to all the animals as we pass by - Phil does not! We have seen a lot of cows, horses, donkeys and sheep, a red squirrel, a few kestrels and one dead wild bore - yuck! Only 6 barking dogs today.
White breakfast is much improved by cheese and ham - also enables us to pack a snack for the journey.
More tomorrow, love to you all, P and J XX