Today's Stats
Lake Ohrid in Albania to Kastoria in Greece! Yes I said Greece!
57 miles and 6 hours and 7 minutes in the saddle.
1688 total miles!
1 less team member ☹️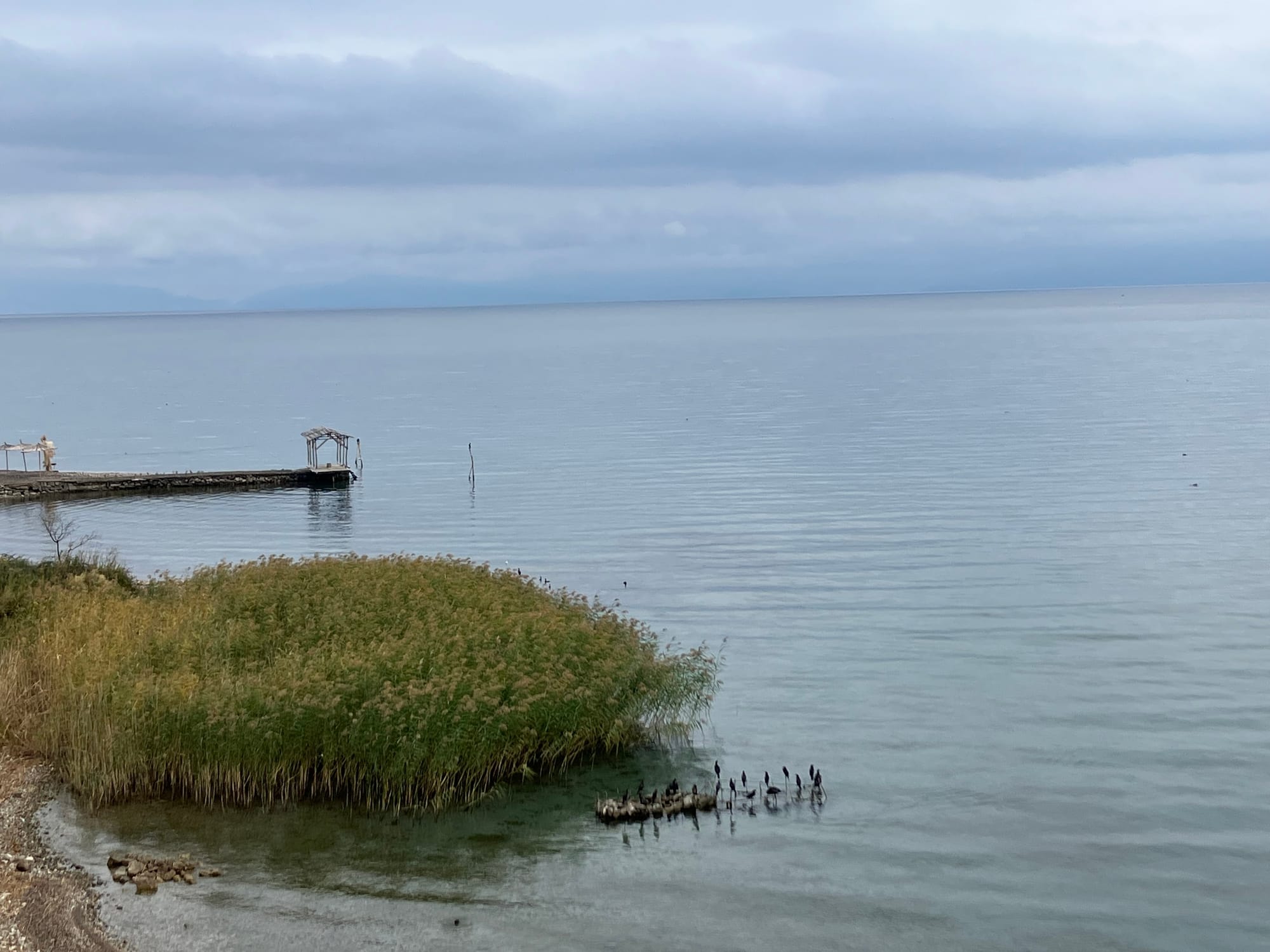 We were very sad to leave Hare behind this morning- he waved us off after our first challenge of the day when the hotel would only take cash and not Euros so a mad hare to the bank to get out Lek was required. Off Hare went, bless him, with the owner of the hotel, only to get stopped by the police to check on trafficking! Honestly- only in Albania! Finally off we set, sadly saying goodbye but so pleased we had the chance to all be together, even if it was for only just over 200 miles! - great memories made X
We had thought today would be a long one and it was! It started with a slow climb away from the lake and over the other side of the hills where the country road took us through a very rural and farming community. It was refreshing to see this side of Albania with children waving from gardens and two young boys even running out on to the street to high five HOO. We are more of a novelty in Albania than we have been in any other country we have been through. There were donkeys, mules and horses all pulling various carts, goats and sheep being herded, Maize being harvested and put in huge piles in peoples gardens ready to feed the animals in the winter I thought? Possibly for flour? Work was happening all around us and we were greeted warmly, mostly waving. Not many people smile here but we have experienced warmth and kindness. This pathway through the farming lives was interesting for us but hard work - we had an oncoming wind which made it feel as though we were making little progress in distance - somewhat dispiriting.
The land looked fertile until we left the country road and finally joined the main road. Suddenly we had orchards on either side of us, similar to those we had encountered in the South Tirol region of Italy. Hitting 32 miles we were both tired and sore and so took our lunch break off the main road and into an orchard. I waved at the fruit pickers to keep the peace and before we knew it a woman and then a man came over giving us apples and filling my pannier with them. We shared no language between us and left with a heavier load but lighter hearts than we had felt all day.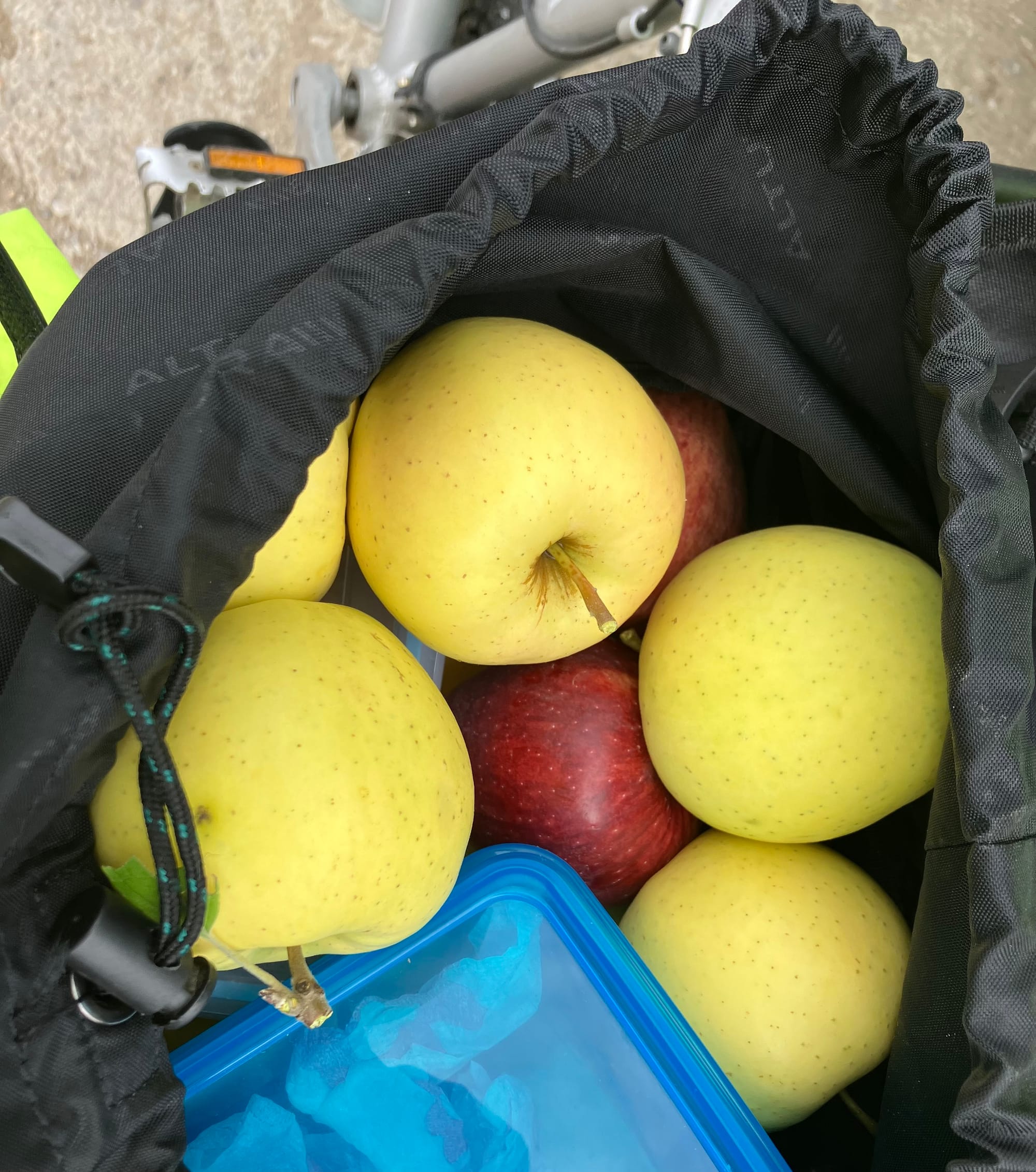 The border seemed to take forever to reach but we finally got there. Heavily manned, it was a major customs operation with strict checks for lorries going on. We were in a small queue and got through with little difficulty and felt a sense of relief to leave Albania and have made it thus far!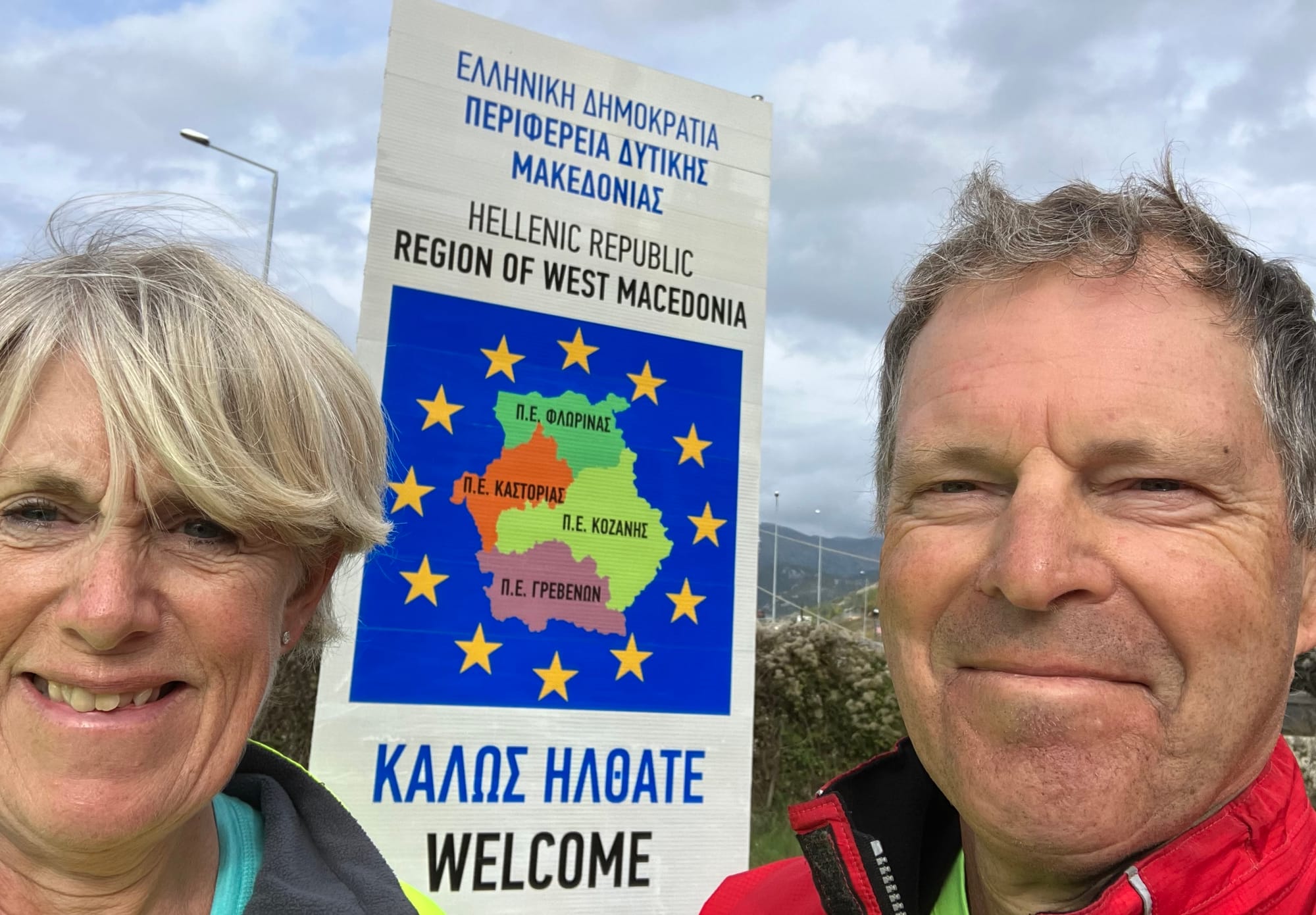 The main dual carriage way looked the best option for the last 20 miles and we set off down this deserted road, with it very much to ourselves. There were no signs to indicate that we couldn't be on it and we flew the next 5 miles, even whizzing through a tunnel and then we came to a ……toll station! Unfortunately an official told us that we were not allowed on this road so off we set into the middle of no where, with 15 miles to go and the light beginning to fade. Greece is an hour ahead of Europe (2 ahead of UK) so we had lost an hour during the day!
With some directions from the official and with HOO's amazing sense of direction (and map!) we were off into the countryside, climbing a steep hill and then whizzing through the little lanes. We heard the dogs barking before we encountered them but knew we were in a spot of bother when we saw they were in a pack of about 6 or 7. Also we were then climbing a hill so it was hard to cycle through them quickly. We were surrounded by barking over excited hounds before we knew it and unfortunately one nipped at HOO and made contact. We managed to get through them without anymore injury, but it was a scary moment and an annoying injury incurred in the process!
Quick first aid once away from the dogs and another check on the wound this evening and we think we will go by the medical centre in the morning to get it checked out - better safe than sorry. We flew the last few miles after this incident and are in a very comfortable hotel, have been out for a very typical Greek Taverna meal - delicious - and are now pretty pooped! It's been a long one! But we are in GREECE and both us us feel lighter for leaving Albania behind us and being somewhere more familiar.
And so to bed dear family and friends. We leave Albania with thanks to those who have shown us strength and kindness. Lake Ohrid was beautiful but we are happy to be in Greece. I felt somewhat on edge the whole time in Albania and if you could choose to be an animal there - be a chicken - they have freedom and space and look well. Do not be a cat or dog and I will say no more on that matter as I really don't want to recount my experiences here. Too disturbing and I just want to forget all about it - but that may take sometime.

With our love P and J XX